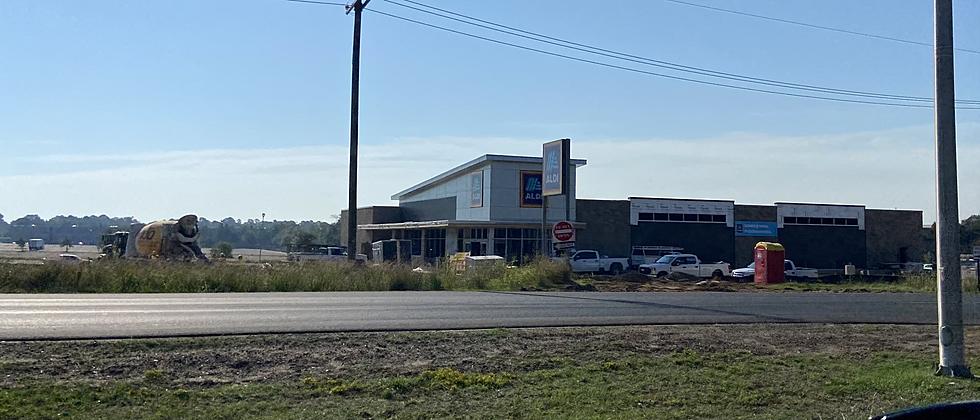 Check Out Progress of New ALDI Store in Shreveport
Erin McCarty
SHREVEPORT, LA – Big things are happening in southwest Shreveport. A new grocery store will soon swing open the doors to shoppers. And this is a grocery chain that has not previously been in northwest Louisiana. ALDI is expanding its footprint in the south and Shreveport is on that list.
ALDI is adding 120 new stores across the nation in an effort to meet the growing demand for quality, fresh groceries at the lowest possible prices.
KEEL News has reached out to the folks at ALDI and have been told no specific opening date is set yet, but they are still hoping to get the store open before the end of this yea
The Shreveport store is being built near the corner of Mansfield and Baird Roads.
ALDI is planning to have more than 2,400 stores nationwide by the end of the year.
Jason Hart, CEO, ALDI U.S. says
While inflation is undoubtedly driving unprecedented demand for affordable groceries, we know that once customers experience the ALDI difference, they keep shopping with us, even when the economy improves. Our growth is led by our customers, and they continue to want more ALDI locations coast-to-coast.
This new Shreveport store will create between 15 and 20 jobs in Shreveport. The job postings for Shreveport are not yet listed, but You can click here to see the jobs as soon as they are posted.
ALDI is also including eco-friendly features which will include rooftop solar panels in many stores. They are also doing away with plastic shopping bags.
ALDI has been expanding across the southeast including the opening of a regional headquarters and distribution center in Loxley, Alabama.
Currently, ALDI has stores in these Louisiana cities:
This national expansion will mean hundreds of jobs, about 2,000 new jobs by the end of this year.
Here Are the Details About the Shreveport Store
The ALDI store in Shreveport will be 19,432 square feet.  It's being built on the eastern side of the 9500 block of Mansfield Road, just south of Baird Road.
ALDI has more than 2 thousand stores in 38 states. They are adding about 150 stores across the country. Many of these stores will be in the Gulf Coast area.
Here Are Some Ways to Trim Your Grocery Bill
Grocery prices have a lot of families trying to pinch pennies. Do you have some shopping tricks that save you some money.
More From News Radio 710 KEEL