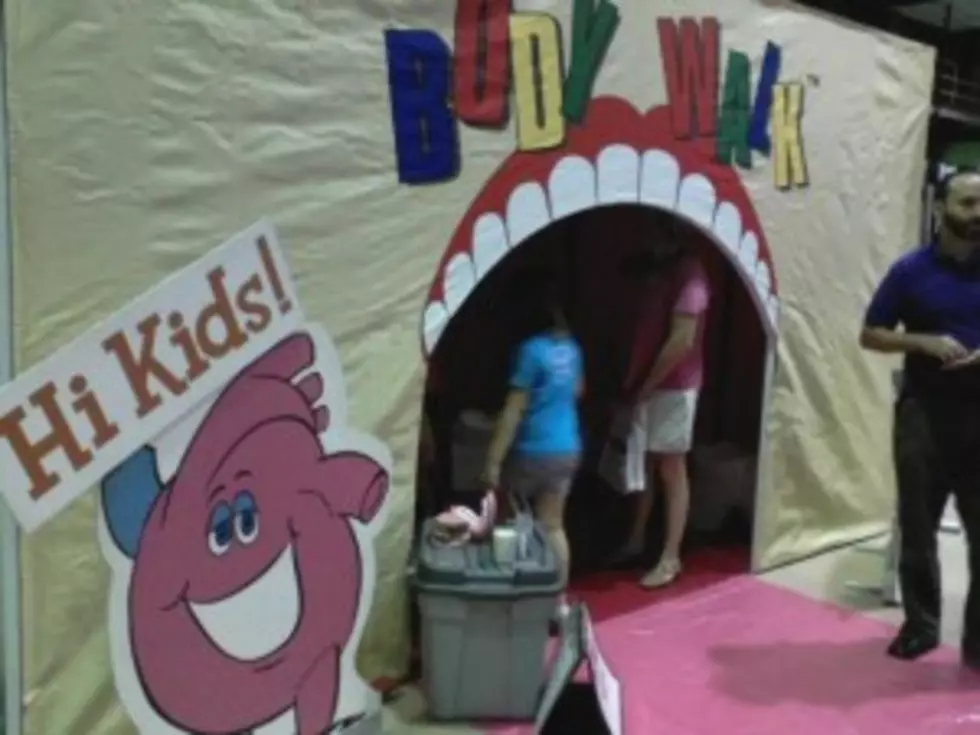 Sign Up Saturday – A Fun-Filled and Informative Event [GALLERY]
Sign Up Saturday...what a fun event! Lots of folks turned out from 10 to 2 Saturday to check out great health, safety and sign-up info for the kids. My good friend Margaret met my little girl and me at the Bossier Civic Center for it. Though Emma wasn't exactly the "target age" for the activities, she still had a great time...and I got lots of great health, safety and sign-up information for her.
We started out at the Germ Cave, one of the most-popular booths. Sports Care staffers were inside showing the kids what "germs" looked like (glow paint under a black light served that purpose) and teaching them the correct way to sneeze, and how to keep their hands clean.
We spent a little time visiting booths, including the ones Bossier City firefighters and police and Louisiana State Police had set up -- before checking out some soccer demonstrations on the big stage at the back of the Civic Center. (We also saw a gymnastics demonstration there later that morning.)
There was a section set up where Holiday Lanes had mini bowling games going on. Of course, Emma wanted to stop there next. She "bowled a few games," then we took her over for the fitness test (the first of three tests she took that day.) She did sit-ups and push-ups (Emma-style!), then a little obstacle course. Perfect score there! She actually ran the obstacle course three times!
Another most-popular booth (we could tell by the long line) was for the face painting. I saw kids walking away with some gorgeous and colorful designs on their cheeks. Unfortunately, we never got to make a stop there -- because Emma spent so much time in the Body Walk. The entrance looked like a mouth, with big plastic teeth for seats set up inside. Emma was in there so long, I had to peek in and see what was keeping her. She told me later she was "looking at the rubber food inside the stomach." It was too cute! That was officially her favorite exhibit.
There was a pretty neat set-up for the vision and hearing tests. I didn't know this until we went in, but the younger kids got a different eye screening. We will get our results in the mail. The older kids got to read off of the eye chart. Both tests were in separate rooms from the rest of the expo...which I thought was a great idea.
Having never gone to one of these in the past, I have to say I will be going again next year. Congrats to the team at Sports Care USA for making this an incredible success!

More From News Radio 710 KEEL