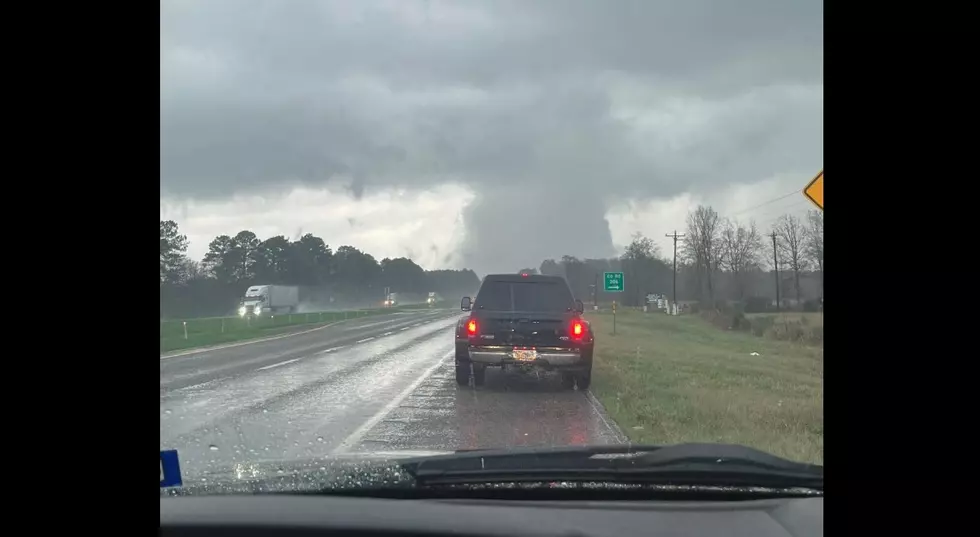 Shocking Picture Of Massive Storm That Passed From ETX Into Shreveport
Photo Credit: Kalie Malone
Texas and Louisiana experienced a day that is being described by national media as a "tornado outbreak". Though not everything has been confirmed, there have been plenty of reports of tornadoes from the DFW area through the Shreveport and Bossier areas. Radar indicated, radar confirmed, storm spotter confirmed, and so on. There are damage reports now, especially in the Keachi and Waskom areas.
The storms moved into the East Texas area and through Shreveport starting around 3pm this afternoon. When they were making their way through East Texas, Kalie Malone was transporting her kids to avoid the storms. When she was driving through Panola County, she stopped to take this picture...
We reached out to Kalie to get the story behind this picture, and here's what she told us:
"Well I was in the car! I had packed my kids up and went towards Carthage to get away from the tornado as it was heading in to Beckville, where we live. My mom (and dad in the truck in the pic) were following a fb live and they said it was safe to go back, so we headed back towards Beckville and this is what we ran in to! It was very still, no noise or anything. Just some light rain. But we sat there and watched it form and disappear, very strange! We sat there for about 10 minutes and watched the whole thing."
That storm continued into the Shreveport and Bossier areas, where tornado warnings continued for hours after. Two hours after Kalie posted that pic to Facebook, there is still an active tornado warning in the Ark-La-Tex.
The 14 Most Notorious Serial Killers In Texas History
Top 5 Most Loyal Fanbases In The NFL In 2021
Least Educated Parishes In Louisiana
The site Stacker.com ranked the Parishes to find the lest educated in the state. Here's what they did, and how they did it,
according to their site
. See the list of the 25 least educated below
More From News Radio 710 KEEL