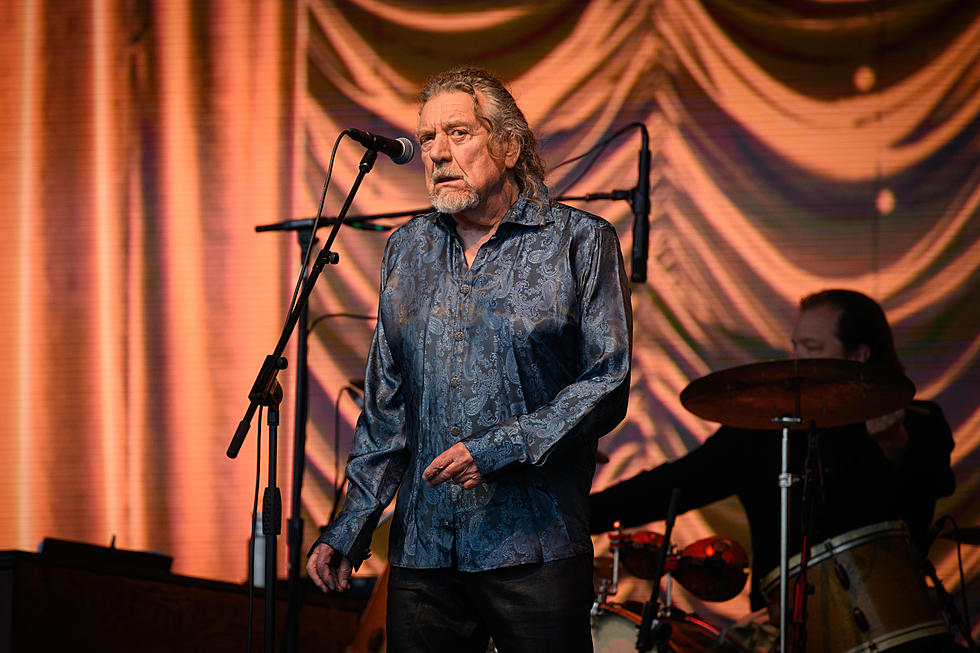 Robert Plant Calls Shreveport 'The Land of Giants' While Visiting
Photo by Leon Neal/Getty Images
Robert Plant is one of the most successful musicians in the world...in history. The lead singer of Led Zeppelin has been emulated for decades. Plant, and his band, are consistently listed as an "influence" on numerous successful musicians over the last 5 decades. So when Robert Plant speaks on music, you should listen.
That means when Robert Plant celebrates an area's music history more than the area itself does, you should listen.
Robert Plant came to Shreveport on April 25th to play a show at the historic Shreveport Municipal Auditorium, a venue he called "hallowed ground". Robert Plant doesn't need to play the Shreveport market. He doesn't need to perform in a venue as small as the Municipal. But Robert Plant chose to come to Shreveport...because of the history.
Plant isn't the only performer who goes out of their way to play Shreveport-Bossier, and specifically the Municipal. Artists like Jack White, Queens of the Stone Age, Paul McCartney, and The Foo Fighters find their way here for more reasons than just playing a gig. Much like Plant did, they want to know more about Shreveport's history, and visit physical history you can't see anywhere outside of Shreveport.
The venue itself, the Municipal, is where Elvis cut his teeth on stage during the Louisiana Hayride. The venue is drenched his Elvis history, and gives these artists the ability to say they "played the same stage" as Elvis. Which, due to the pattern of larger markets replacing old venues instead of renovating them, is something that is harder and harder to do.
Not only does Shreveport have the Elvis history (don't forget the fact that he left he 'left the building' in Shreveport too), but the area was home to Huddie 'Lead Belly' Ledbetter as well. Lead Belly has been cited by a long list of legendary musicians as an influence...including Bob Dylan, Kurt Cobain, The Beatles, Van Morrison, and many more. Including a well known cover song, that many don't realize is a cover song, Ram Jam's "Black Betty" (though many others have moved to claim Lead Belly's song after his 1939 recording of Black Betty).
Legends like Johnny Cash, Slim Whitman, Faron Young, Hank Williams, Johnny Horton, Jim Reeves, George Jones, Tex Ritter, and Willie Nelson also built their resumes on the stage in Shreveport.
Shreveport is also home to some negative music history, that turned into positive music. When an altercation involving singer Sam Cooke was turned into a legendary song.
The city was also home to music history when Sammy Hagar played his first ever concert with Van Halen. Or when RAM Recording Studio was founded by Mira Smith. Or when Stan the Man used Stan's Music Shop to shape radio and music label relations in America.
We're not even talking about the musicians who were born or raised in the Shreveport-Bossier area. Like Hank Williams, Jr, James Burton, Kenny Wayne Shepherd, Kix Brooks, Jared Leto, to name a few.
Shreveport has a rich music history. That's something that the tourism picture of Shreveport should be build around. The marketing of the community should reflect something like Memphis, where when you think of the city, you think of its music history first. It shouldn't take Robert Plant to remind us of that.
Legendary Musicians Who Rocked The Hirsch In Shreveport
Here's a sample of the legendary musical acts who have played Shreveport's Memorial Coliseum over the last 60 years. The Hirsch was basically the homefield for bands like Van Halen and ZZ Top, who regularly put the Hirsch near the top of their tours. For that reason, we're actually not going to feature them on this list, because they were basically "house bands" for Shreveport...and that's NOT a bad thing.
The 7 Most Infamous Female Killers In Louisiana History
More From News Radio 710 KEEL