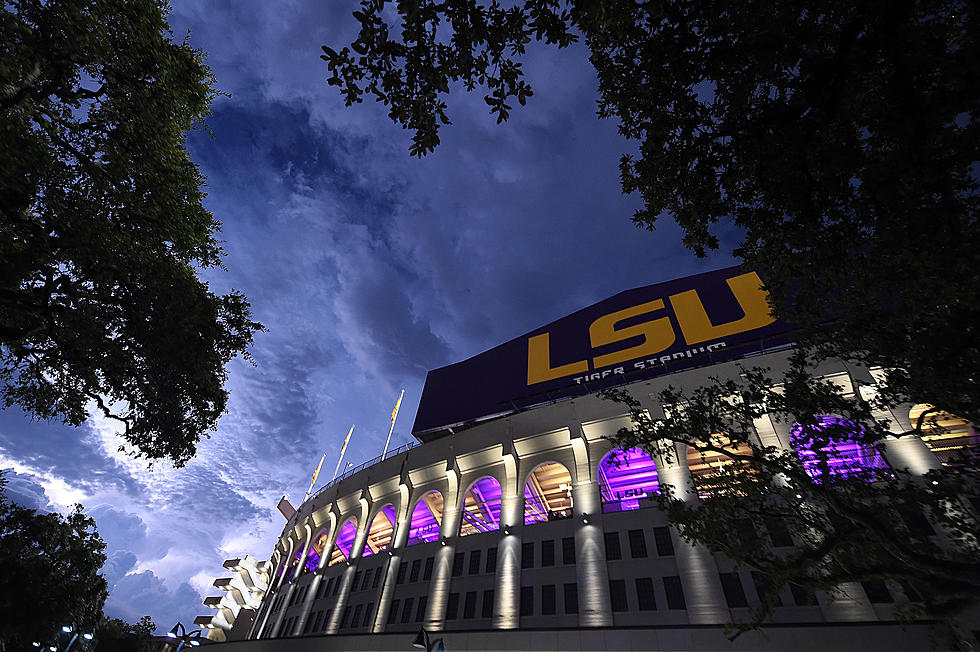 LSU's Tiger Stadium Now in Historic Stadium Caucus
Photo by Stacy Revere/Getty Images
If you've been to an LSU football game... you understand. College football is about more than just a game.  As LSU gets ready to start a new season, their home the now historic Tiger Stadium... Death Valley is now protected as an historic stadium.  But we already knew that.
Tiger Stadium opened in 1924 with a capacity of 12,000.  It currently seats 102,321.  ESPN ranked it as "the scariest place to play."  And according to Wikipedia, in 2009, ESPN writer Chris Low listed Tiger Stadium's Saturday night atmosphere as unsurpassed in the country, ranking it No. 1 out of the SEC conference's 12 stadiums.
The Historic Stadium Caucus, a congressional effort to preserve, protect and enhance stadiums around the country, has recently included Tiger Stadium as one of America's Most Treasured Stadiums. Congressman Garret Graves says the Historic Stadium Caucus will focus on enhancing security, technology and infrastructure at these venues.
"Preserving the history, preserving the memories and figuring out how other schools have been able to do this and do it in a way that ensures you're not coming in with bulldozers and knocking these things down," said US Representative Garret Graves.
Tiger Stadium is one of the few stadiums in the country that are now on the list of America's Most Treasured Venues.
"We've had others reach out that have other types of stadiums and I do expect that we're going to formalize some criteria after working through this," said Graves.
He also said Graves  Tiger Stadium is on the list because of the passionate fans that come with every LSU football game.
"I remember going to football games when I was a kid, walking up the ramps, with my parents, holding hands, with all of these people cheering," said Graves.
The mission of the Historic Stadium Caucus is "to assist representatives of historic stadiums — and those who are passionate about safeguarding iconic venues — in ensuring the stadiums can stay up-to-date with the latest technological advancements and security measures, as well as environmental practices, all while preserving their rich historical legacy."
Pictures From LSU's 2022 Football Season
The 37 Wins LSU Football Had To Vacate
Due to a
player that was ruled ineligible
years after the games were played, the LSU Football program had to vacate 37 wins. Here are the games that they have now retroactively dropped wins from.
More From News Radio 710 KEEL