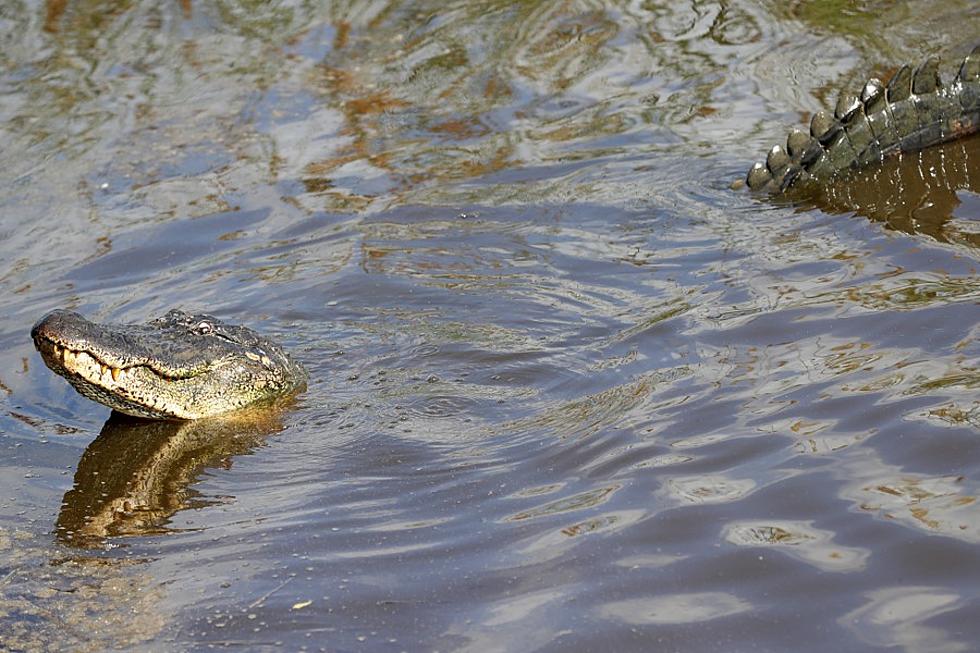 Body of Missing Louisiana Man Found…Inside Alligator
getty images
State and federal wildlife officials confirm that the remains of a 71-year-old Slidell man were found inside a 12-foot, 500 pound alligator. Timothy Satterlee had been missing more than three weeks after his wife saw him being dragged away into a marsh near their home in St. Tammany Parish.
The Parish Coroner said he is almost certain that the body parts found inside the alligator are Satterlee. Dr. Charles Preston said that he used DNA samples from the human tissue, then matched them against samples from the dead man' sons to make the identification. Preston also used Satterlee's medical and dental records to make the identification. The Coroner said positive identification is virtually impossible because Satterlee's body had been in the reptile's stomach "for quite a while."
High Water from Ida
St, Tammany Sheriff's officials said the Satterlee was taken by the alligator on Monday, August 30. According to a report in The Advocate, "Satterlee had gone outside to check on something in the shed behind his raised home when his wife heard a splash. She initially thought he had fallen into water rising from the nearby marsh. Instead, she saw her husband being attacked by an alligator. Mrs. Satterlee went to find something to help her husband fight off the gator but told authorities that when she returned, the alligator had ripped off his arm and Satterlee was unconscious. She rowed in a pirogue searching for a cell signal to call 911, but when she returned his body was gone."
Wildlife agents had been searching the bayous and marshes near the Satterlee home, coming across the animal almost two weeks after Satterlee's disappearance. The St. Tammany Parish Sheriff's Office said that the alligator was slightly more than 10 feet long and weighed 504 pounds.
How Often Do Alligators Attack?
Although there are about 2.5 million alligators in Louisiana, attacks on humans are virtually unheard of. In fact, numerous sources say that the only previous record of a fatal attack on a human by an alligator in the state was in 1774.
Great Beaches You Can Visit in Louisiana
Bizarre Sports You Might Want to Watch
Most Common Post-COVID Health Problems
More From News Radio 710 KEEL