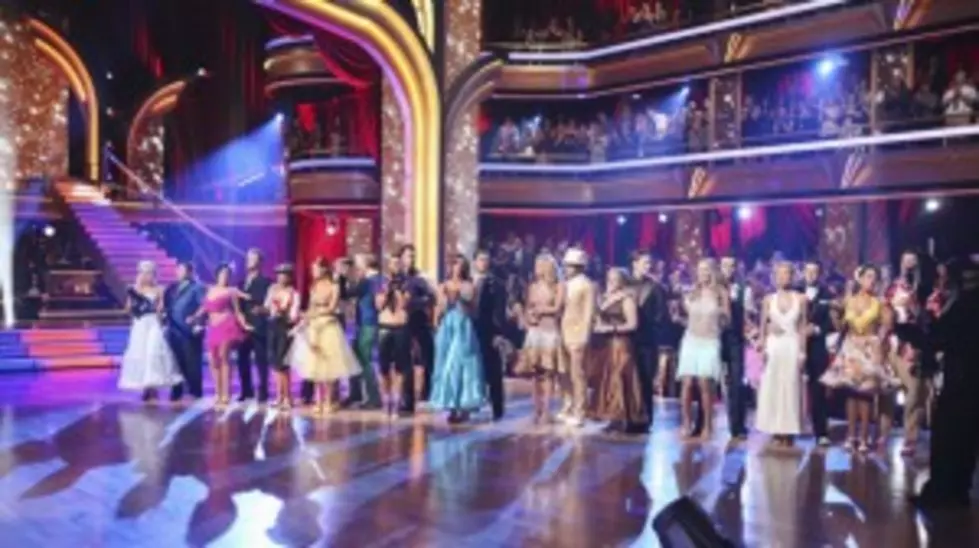 A Dancing with the Stars First: A Sports Star First Eliminated This Season
I'm a little late on posting this, but I suppose it's still relevant...since the season's only just begun.  I imagine many of you know what a huge Dancing with the Stars fanatic I am.  Though I haven't been following the show from the VERY beginning, I have been watching religiously since Season 3.  And yes, I've even gone so far as to make my own personal score sheets for each "celebrity," so I can keep track. 
Those of you who also follow the show know that it's made up of a mixture of entertainers (singers, actors/actresses, comedians and magicians all fall into that category), models, reality "stars" (I consider that a category all its own), broadcasters and athletes (race car drivers fall into that category, too!).  In my experience with watching the show, I never saw an athlete get the boot first...until THIS season.  Starting things off with a flamboyant fashion guru and the first transgender contestant (neither of which has proven to have TOO much potential so far) on the lineup, that's just more proof that season 13 is one like no other before it.
Once LA Laker Ron Artest (know known as Metal World Peace) and his brand-new-to-the-show professional partner Peta got elimiated first, it prompted me to do a little research.  Here's what I came up with as far as the big winners...and losers...from the past 12 seasons.
---
Oddly enough, though the models and broadcasters tend to not do so well, contestants from those two categories haven't seen the largest number of first elminations.  That "honor" goes to...the entertainers! Six of them have been kicked out first in the last 12 seasons: Magician/Actor Penn Jillette in Season 6, Standup Comedian Jeffrey Ross in Season 7, Singer Belinda Carlisle (formerly of the Go-Gos) in Season 8, Actor/Comedian (and son of George Hamilton) Ashley Hamilton in Season 9, Actress Shannen Doherty in Season 10, and Actor/Singer David Hasselhoff (BIG surprise!) in Season 11.  Three broadcasters (ESPN Anchorman Kenny Mayne, Policital Broadcaster Tucker Carlson and Radio Talk Show Host "Psycho Mike" Catherwood), two models (Paulina Porizkova and Josie Maran, who both could also fall into the actress category), one reality TV star (Trista Sutter from The Bachelorette)...and now one athlete have been eliminated first.
---
Now, for the big WINNERS! That honor goes primarily to the athletes and entertainers.  The athletes have the stamina, the entertainers have the stage presence.  In 12 seasons, six athletes took home the mirror ball trophy:  Dallas Cowboy's Running Back Emmitt Smith (Season 3), Olympic Gold Medal-Winning Speed Skater Apolo Anton Ohno (Season 4), Indy 500 Champion Racer Helio Castroneves (Season 5), Olympic Champion Figure Skater Kristi Yamaguchi (Season 6), Olympic Gold Medal-Winning Gymnast Shawn Johnson (Season 8), and Pittsburgh Steelers Wide Receiver Hines Ward (Season 12).  Five entertainers earned the honor:  Actress Kelly Monaco (Season 1), 98 Degrees Singer Drew Lachey (Season 2), Singer/Actor Donny Osmond (Season 9...and my favorite!), Pussycat Dolls Vocalist Nicole Scherzinger (Season 10), and Actress Jennifer Grey (best known for her role as Baby in Dirty Dancing...Season 11).  NO Reality TV Stars or Broadcasters took home the trophy...and only one model did -- Brook Burke in Season 7.  She's now the show's co-host (but, in my opinion, still nowhere NEAR as good as TV host extrordinaire Tom Bergeron!)
As for the professional dancers, who -- for me -- have become bigger stars than the "celebrities" they've been paired up with, only a few have led their partners to the big win multiple times.  Cheryl Burke was the first, in seasons 2 and 3, then Julianne Hough in seasons 4 and 5, Mark Ballas in seasons 6 and 8, Derek Hough (yes, brother to Julianne) in seasons 7, 10 AND 11, and Kym Johnson in seasons 9 and 12. 
Now the question remains...which one of the mixed bag of so-called stars will be the big winner THIS season?  There are many more weeks go to.  If you want MY opinion...I can see Actor (and former Shreveport resident!) J.R. Martinez, Singer (of Wilson-Phillips) Chynna Phillips, and Talk Show Host/Actress Ricki Lake making it to the finals.  And if David Arquette, one of MY top picks this season, improves his Latin dances a bit...I'd like to see him there, too.
More From News Radio 710 KEEL