Kennedy: Impeachment "Dead as Fried Chicken" in the Senate
Marie Constantin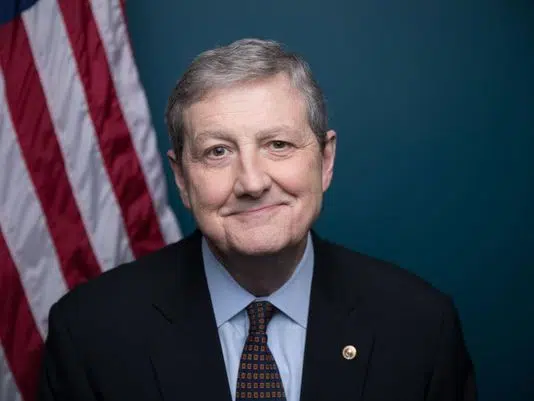 Senator John Kennedy says Democrats may support impeachment in the House, but there's next to no shot the Senate will vote to remove the President.
Kennedy says House Democrats failed to prove the President tried to withhold military aid to Ukraine in exchange for an investigation into the Bidens.
"If a vote were held right now the impeachment articles in the United States Senate would be as dead as fried chicken," says Kennedy.
Polls show Americans are still sharply divided on the issue along partisan lines, and Kennedy says the Upper Chamber is as well, which makes the odds of President Trump being removed slim to none.
"It's not even close to a two-thirds vote to convict the President," says Kennedy. "There would be no Republican who would vote to impeach the President, and one or two Democrats as well."
An AP poll of House Representatives shows Democratic defections on impeachment in the House will be in the low single digits.
Once the House votes to impeach, Kennedy says the Senate will take up the issue in the first week of the New Year.
"The first phase would be to allow both sides to present their cases, both the prosecution, Speaker Pelosi if you will, and President Trump," says Kennedy.
More From News Radio 710 KEEL