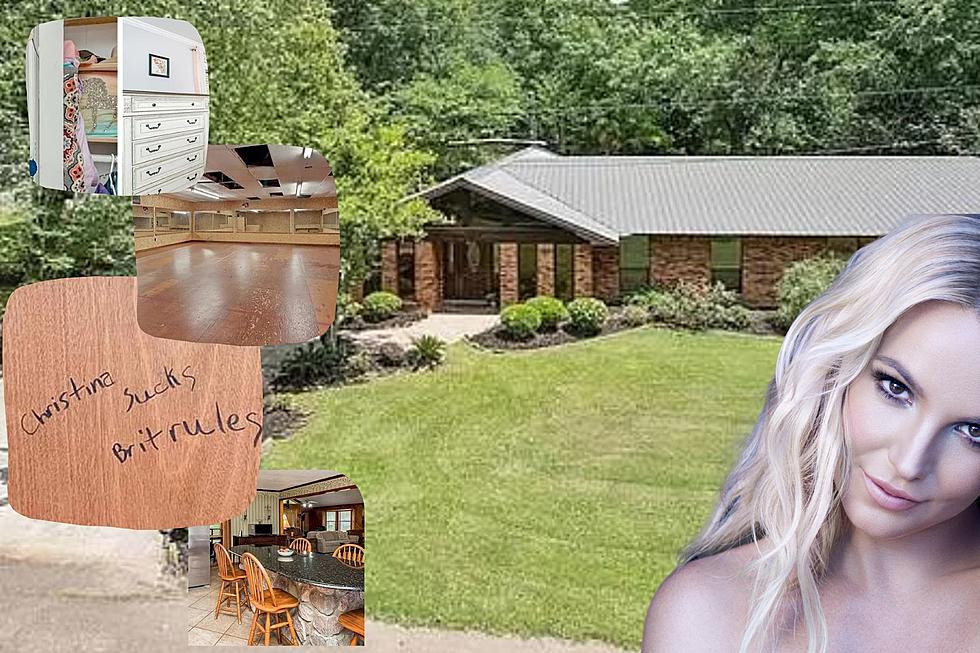 Britney Spears' Childhood Home in Kentwood, Louisiana is For Sale
Canva/Michelangelo Di Battista/Sony/RCA via Getty Images/Yvonne Hulsey with Keller Williams Realty Services via Zillow.com
The home where Britney Spears' grew up in Kentwood, LA has been listed for sale for a whopping $1,200,000!
Ever Wondered What Britney Spears' Childhood Home Looks Like?
Britney Spears' childhood home is for sale in Kentwood, LA. The house is listed by Yvonne Hulsey with Keller Williams Realty Services and according to the seller, there's a lot of 'Britney' left in the home, including some of her original artwork... including a mention of what we presume is Christina Aguilera. *ahem*
What's interesting to note is that Jamie Spears, Britney's father, sold the property in 2021 for $289,000... so someone is looking for a quick payday and they'll probably get it because some of the home's original furnishings are included. Considering Britney's tell-all book The Woman in Me came out last week and has already sold over a million copies, the timing is excellent.
Here's what Zillow.com has to say about the home:
Nestled on a sprawling 1.87-acre m/l estate, the former childhood home of Britney Spears is a true piece of music history. This charming residence boast a spacious 2,300 sq ft of living space and retains the original dance studio where Britney's incredible journey began. Set against a backdrop of serene, park like grounds, the property exudes a sense of tranquility and nostalgia. What sets this home apart is its authentic connection to Britney herself. Many of the furnishings are original to the home, preserving the essence of the iconic singer's early years. The chance to own a piece of pop culture history makes this property all the more special. With an asking price of 1.2 million, this unique opportunity to step into the shoes of a pop legend and live in the space where Britney's remarkable career took root. The Chance to own a slice of music history and one of the most iconic properties in the entertainment world. Photos by Nicole Pittman
Let's take a look, shall we?
More From News Radio 710 KEEL