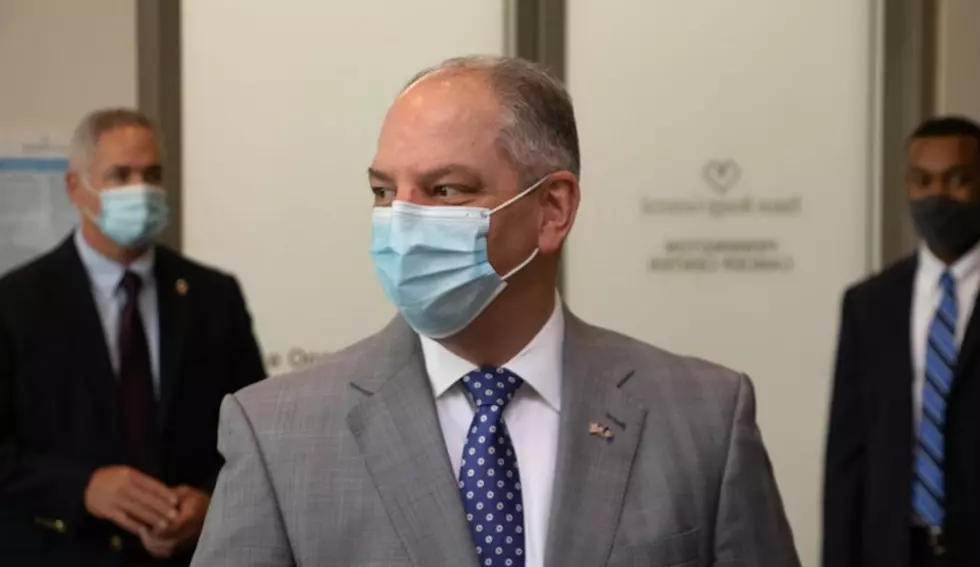 Gov. Edwards Calls For the Return of Masks, Stops Short of Issuing Mandate
Governor John Bel Edwards, Facebook
Louisiana Governor John Bel Edwards, seeing the increase of Delta variant cases of COVID-19, is urging residents to mask up indoors and to get vaccinated. However, despite his plea for people to follow his newly issued guidelines, he stopped short of issuing any statewide mandates.
The Governor laid out some 'less than positive' facts during his press conference from Baton Rouge today. Edwards said that there were more than 1,000 COVID hospitalizations in the state and that Louisiana has the highest rate of new COVID cases per capita in the nation. Edwards also noted that Louisiana has one of the lowest vaccination rates in the country.
Edwards is urging people, whether vaccinated or not, to wear a mask when social distancing can not be followed. He also broke from CDC policy and said that even if you have been vaccinated, if you've been exposed to COVID you should be tested for the virus.
However, despite his urgent and less than hopeful plea, the Governor stopped short of issuing any mandates. At this time, the Governor's recommendations are just that - a recommendation.
So far, there have been no mandates or restrictions on Louisiana businesses. However, Governor Edwards did say that he expects that, short term, numbers will continue to climb and additional orders may come at a later date.
Beside the dark and less than hopeful message, the Governor overall just urged that everyone that is qualified to get vaccinated.
Top Stories in Shreveport for 2021 So Far
Look: How Shreveport-Bossier Has Changed from 2007 to Now
Look: Weirdest Town Names in the United States
From Ding Dong, Texas to Waterproof, Louisiana there are some truly strange town names in the United States.
More From News Radio 710 KEEL