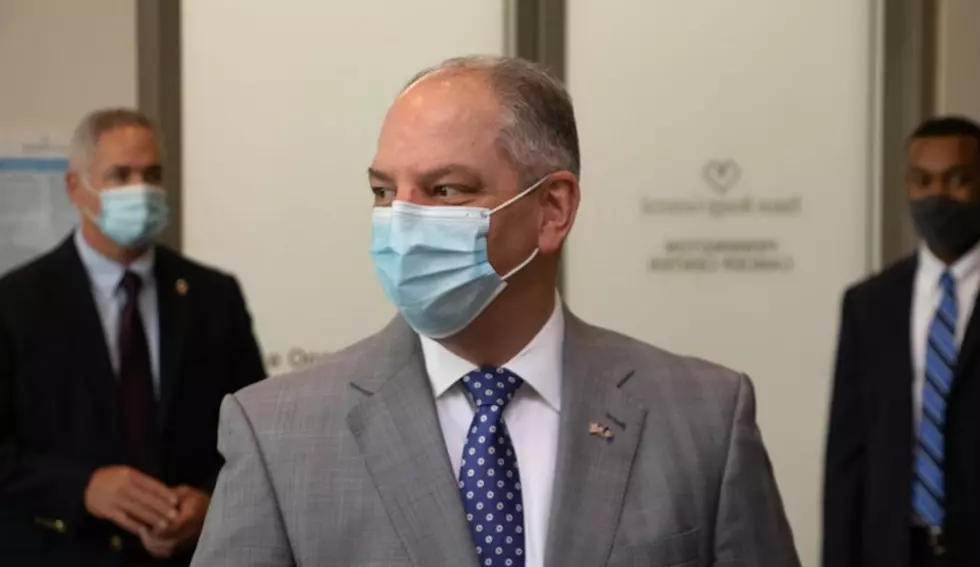 John Bel Extends Louisiana's Mask Mandate Another Month
Governor John Bel Edwards, Facebook
Louisiana Governor John Bel Edwards has extended his statewide COVID-19 mask mandate another 4 weeks. During today's news conference, the Governor acknowledged that the state's 'fourth surge' is tapering off, but says we need another month of the mandate to keep the state safe. The Governor specifically pointed out that the statewide mandate includes K-12 schools and college campuses. "We're seeing improvement in the percentage of positivity and hospitalizations", Edwards said.
However, despite the "good news" the Governor says that numbers in the state remain too high and that it is too soon to remove the mask mandate. "Our baseline numbers are still far too high," Edwards said.
---
---
During the news conference, the Governor continued to push residents to get vaccinated against the virus. Edwards called the vaccine a "game changer" and said that our vaccination rate is not good enough.
According to the latest numbers, only 45% of Louisiana is full vaccinated. And just over 50% are partially vaccinated. Both the Governor and Dr. Joseph Kantor stated several times that they feel most deaths and hospitalizations would have been prevented if more people were vaccinated.
According to the Governor and his staff, despite the big drop in hospitalizations (the state is under 1,000 hospitalizations for the first time since July 22nd) and a falling positivity rate, the state needs to keep the current mitigation measures in place to prevent the numbers from getting any higher.
75 Of The Most Famous People From Louisiana
Look: How Shreveport-Bossier Has Changed from 2007 to Now
Hard to Pronounce Louisiana City & Street Names
10 Tallest Buildings in Louisiana
More From News Radio 710 KEEL