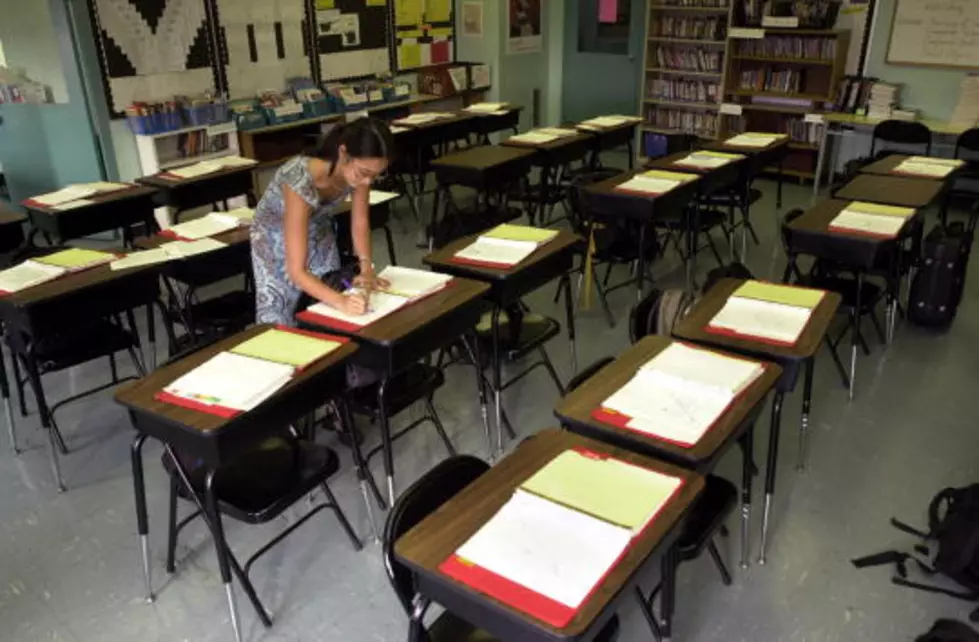 Caddo High Schools See Marked Improvement in ACT Performance
Chris Hondros/Getty Images
Caddo high school students continue to make significant gains in not only their average ACT score, but also in the percentage of students earning college-going scores, according to Louisiana Department of Education data.
In Caddo, the average composite score for the first time in history exceeded the Louisiana average and rose .4 from last year to a 19.5. Additionally, the district also increased its percentage of students scoring above an 18 on the ACT, and thus qualifying for TOPs scholarship dollars, grew from 56 percent in 2014 to 61 percent in 2015.
"We are continuing to make great strides in providing the rigorous instruction our students need to be successful on their paths to college and career and that coursework is preparing students for the stringent questioning of the ACT and other standardized tests," said Dr. Lamar Goree, Superintendent of Caddo Schools. "I am pleased to see the progress we are making with our students, and we will continue to work tirelessly to provide the instruction necessary for students to perform well on the ACT and for many mark the first time they see college in their future."
Throughout Caddo, schools made strong, substantial improvements including double-digit rises in the percentage of students scoring TOPS-eligible ACT scores at three district campuses. Among the largest gains, North Caddo High School marked the biggest increase for an individual school – jumping from a 2014 average ACT score of 17.6 to a 19.5 in 2015. Additionally North Caddo increased the percentage of students scoring above an 18 composite score by 23 percent. Last school year, North Caddo also saw the largest school performance score increase of any high school in the region – rising 16.3 points to a "C" letter grade.
Caddo Magnet High School continues to see 100 percent of its students score above an 18 on the ACT with an average composite score of 25.6 – the highest of any public school in north Louisiana.
At Green Oaks Performing Arts Academy, students saw an average composite score increase from 16.5 in 2014 to a 17.2 in 2015. The percentage of students scoring above an 18 rose from a 28 percent in 2014 to 41 percent in 2015. Principal Marvin Alexander credits his teaching staff along with more rigorous course offerings as essential to the progress made.
"We're increasing our AP (Advanced Placement) classes and offering as many opportunities for ACT preparatory classes and other options which make it possible to have every foundation they need to be successful," Alexander said. "From there, we are we always looking at each student's individual data to see how we can help them succeed and working with the student to see them make the gains they want to make and we know they can make."
Once such example is Patrick Bradford. Bradford graduated from Green Oaks in May, but not before he saw his own score increase from a 17 at the beginning of his senior year to within months moving up to a 23. The football player previously had not understood the power an ACT score could have in his college future, including the scholarship offers that would follow. Now he is preparing to enter his first year of college at Grambling State University where he will major in biology. He hopes to become a biology teacher or a veterinarian.
"When I first took the ACT, I didn't really understand what I could do or even what the ACT was all about, but by having the test at the school I had a chance to see what I could do," Bradford said. "After seeing that I could score a 17 and taking ACT prep classes at Green Oaks, I was able to see what I could do after a few months of studying. This has opened up so much opportunity to me now just from taking this test."
In addition to increasing AP offerings and ACT preparatory classes, the district also increased dual enrollment course offerings and began to institute graduation coaches at schools with traditionally low ACT scores and graduation rates. The 2015-2016 school year will continue to grow course offerings and collaboration with principals to target each student's individual needs.
"Students and teachers alike should be proud of the efforts made to garner these scores," said Keith Burton, Chief Academic Officer. "This district is on an upward momentum and each school is seeing the benefits of a significant amount of hard work to get to where we are today. We will continue to spend this year and the years to come honing in on exactly what is producing the greatest benefits to our students and see to it that we do everything we can to make the brightest future for every child."
To review the complete data for Caddo Parish Public Schools, click HERE.
More From News Radio 710 KEEL