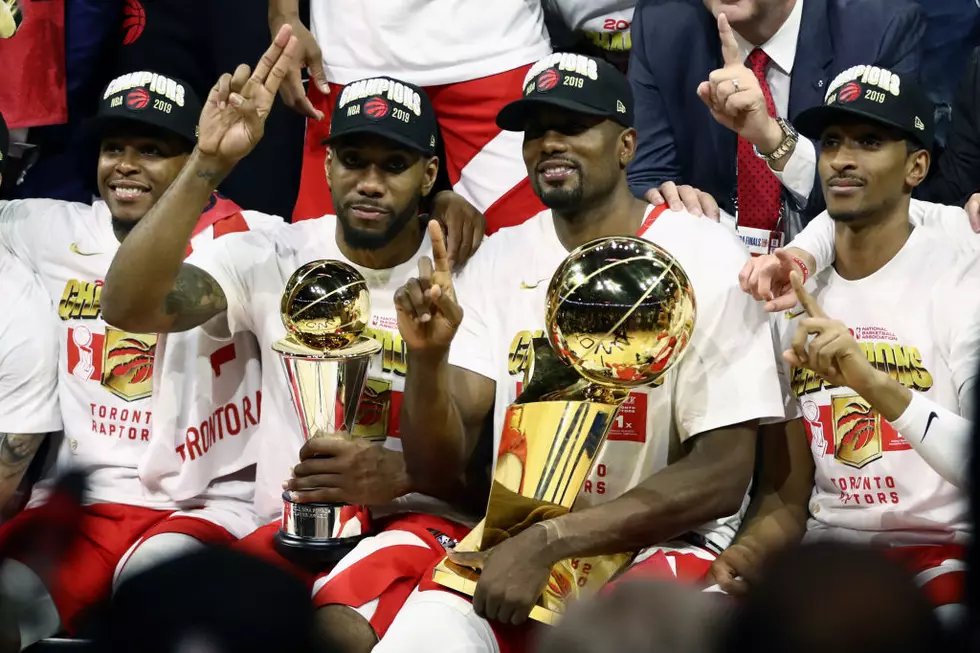 The Toronto Raptors Are Your 2019 NBA Champions
(Photo by Ezra Shaw/Getty Images)
The 2019 NBA Finals has come to an end as the Toronto Raptors have defeated the Golden State Warriors in Game 6 of the NBA Finals 114-110. Kawhi Leonard was named your Finals MVP.
The Raptors committed a costly turnover with about 10 seconds to go as the dubs defense forced Danny Green to throw a bad pass to Pascal Siakam. Steph Curry came away with a great look from three off that turnover that banged off the side rim, at the time it was 111-110 TOR. Off the Curry miss, it was a scramble for the ball, Draymond Green came up with it and called a timeout when GS didn't have a time-out that would be a technical team foul. From there, Kawhi Leonard iced the game at the free throw line.
There was a lot at play Thursday night with this game, the Raptors won their first NBA Title ever, this was the final game at Oracle Arena in Oakland, head coach Nick Nurse won in his first year as a head coach, and Marc/Pau Gasol became the first pair of brothers to win NBA Championships.
Another big piece to this game was in the third quarter when the injury bug bit the Warriors once again as Klay Thompson went down with a knee injury. Thompson went up for a dunk attempt that Danny Green contested cleanly, he came down awkwardly on his knee and was ruled out as the fourth quarter began. Klay finished the game with 30 points and shooting 4-6 from the three-point line.
Throughout all the adversity the Warriors fought all the way down the stretch as guys like Andre Iguodala and Draymond Green stepped up big time. Iguodala scored 22 points on 3-6 shooting from three and Green went off for a triple-double with 11 points, 13 assists, and 19 rebounds.
For the Raptors there was balanced scoring all the way up and down this lineup. Kyle Lowry was huge in the first quarter as he poured in 15 points of his 26 points in this game shooting 4-4 from downtown. Overall, he added 10 assists and seven assists and played very aggressive.
Pascal Siakam added 26 points and 10 rebounds, Kawhi Leonard poured in 22 and the bench mob of Fred VanVleet and Serge Ibaka put in a combined 37 points with VanVleet scoring 12 points in the fourth quarter. For context, VanVleet had 14 points the entire series against the Philadelphia 76ers.
This was a true team performance from the Toronto Raptors, congratulations to this team and the entire organization.
For all my sports posts and to hear my inner sports thoughts, make sure to keep up with me on Twitter, Instagram, and Facebook
More From News Radio 710 KEEL