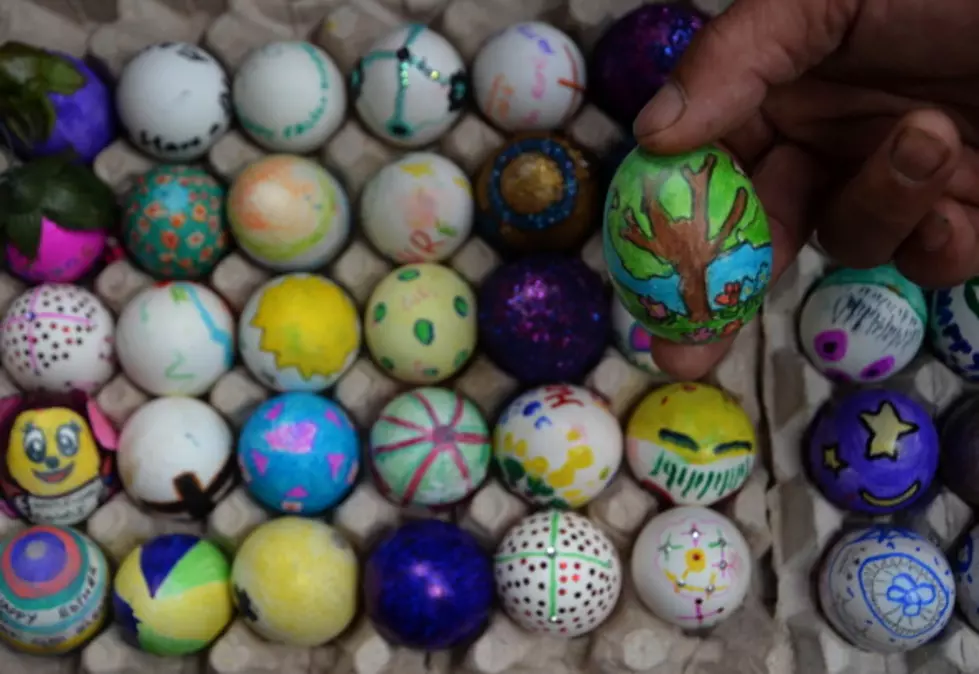 Secrets to Dyeing Easter Eggs
STRDEL/AFP/Getty Images
I can still remember those Easter mornings waking up to a basket full of treats and a huge chocolate bunny. But my very favorite items the Easter Bunny left were those beautifully dyed eggs
Over the years, I have tried several different ways to get brightly colored eggs. Here's my favorite way to get just what I remember as a child.
Prep Work:
Cover your table with layers of old newspaper to avoid making a mess. Set the empty egg cartons aside to use as drying racks. Get paper towels handy to clean up any pools of dye under the eggs.
The Dye:
Mix 7-8 drops of food coloring into 1 cup of hot water. Stir in 1/4 cup vinegar.  I like to have about 8 different colors, so I will mix colors to achieve just the right mix in myDixiecups.
Boil the eggs and let them cool thoroughly. I remember a friend telling me she dyed the eggs before she boiled them….big mistake!!
Line your cups of color up neatly and begin dipping the eggs in your color of choice. I fully coat eat egg and set them all aside before doing any creative work. The secret to gorgeous eggs is to let them completely dry before you dip into another color.
Design ideas
For spattered eggs, dip egg in a base color and let dry. Dip a clean toothbrush in a contrasting liquid color and carefully flick bristles with your fingers to make paint splatter onto egg.
For marbleized eggs, coat eggs with a base color and let dry. Mix canola or other light cooking oil into another color of dye (1 teaspoon oil per cup of dye) and quickly dunk eggs. The oil will repel color in some places and the dye will adhere in others, creating a marbled effect.
Natural Dyes
If you want to make natural dyes, you can try some of these ideas.  Boil common ingredients in water with a tablespoon of vinegar until the desired shade is reached. Strain to remove solids.
Yellow: Yellow onion skins, ground turmeric
Orange: Same as yellow, with added beet juice
Pink: Cranberry juice concentrate
Red: Beets, paprika
Blue: Canned blueberries or grape juice concentrate
Green: Spinach and/or kale
Brown: Strong brewed coffee or tea