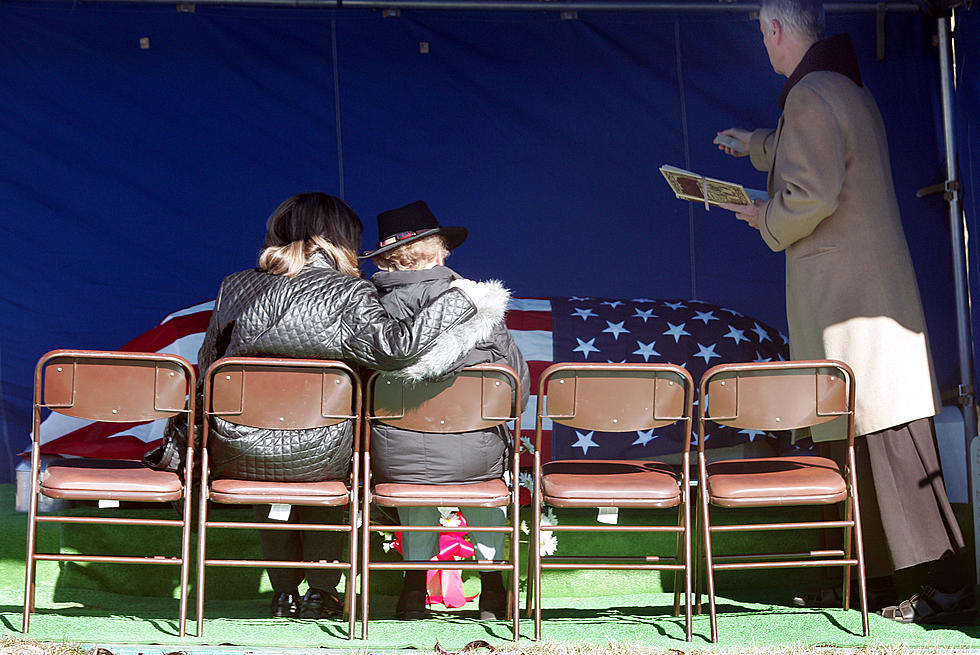 No Louisiana Veteran Should Be Buried Alone
Photo by Scott Olson/Getty Images
In case you're not familiar with what an "Unaccompanied Veteran's Funeral" is, it is simply a funeral where the veteran does not have any family expected to attend. No one should be buried alone, let alone someone who has served their country.
The Northwest Louisiana Veteran's Cemetery is asking any who are willing and able to attend the funeral of Michael Alan Dorion, NAVY-ICFA, 10A Friday, April 21st 2023, to ensure that no veteran is buried alone.
I've been honored to ride with the Patriot Guard in the past at funerals for Veterans, to honor their service. The Patriot Guard was founded in response to the hateful group called The Westboro Baptist Church.  Who are not members of any official Baptist convention, but spew hatred aimed at veterans and their families.  They show up at veterans funerals with signs saying things like, "Thank God for IEDs", and "Thank God for Dead Soldiers."
The Patriot Guard stands between a grieving family and these minions of hell.  According to their website, the Patriot Guard describes their mission as the following:
The Patriot Guard Riders is a diverse amalgamation of riders from across the nation. We have one thing in common besides motorcycles. We have an unwavering respect for those who risk their very lives for America's freedom and security including Fallen Military Heroes, First Responders and honorably discharged Veterans. If you share this respect, please join us.

We don't care what you ride or if you ride, what your political views are, or whether you're a hawk or a dove. It is not a requirement that you be a veteran. It doesn't matter where you're from or what your income is; you don't even have to ride. The only prerequisite is Respect.

Our main mission is to attend the funeral services of fallen American heroes as invited guests of the family. Each mission we undertake has two basic objectives:

Show our sincere respect for our fallen heroes, their families, and their communities.
Shield the mourning family and their friends from interruptions created by any protester or group of protesters.

We accomplish the latter through strictly legal and non-violent means.

To those of you who are currently serving and fighting for the freedoms of others, at home and abroad, please know that we are backing you. We honor and support you with every mission we carry out, and we are praying for a safe return home for all.
For more information about this Friday's service, contact the
Northwest Louisiana Veterans Cemetery:
7970 Mike Clark Road
Keithville, LA 71047
Phone: (318) 925-0612
Fax: (318) 925-5521
Officers Killed in the Line of Duty in Northwest Louisiana
Sadly there have been hundreds of Officers killed in Louisiana. Even more shocking, a lot of officers have perished in our region. More than 20 officers have been killed in the in the Shreveport area alone.
The Officer Down Memorial Page
tracks all of the officer deaths across the nation. Here's a list of all officers who died in the line of duty in Northwest Louisiana.
One of Many Veterans Motorcycle Club
More From News Radio 710 KEEL