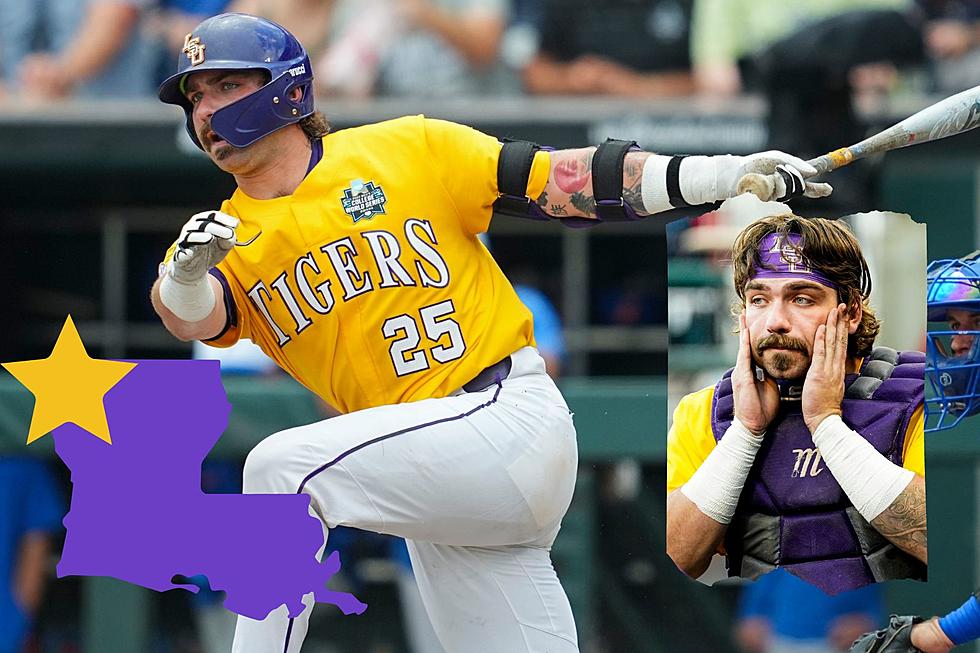 LSU Baseball's Hayden Travinski Gets His Own Day in Bossier City
Canva/Jay Biggerstaff/Getty Images
LSU Baseball player and 2023 College World Series Champ Hayden Tramp has been honored in his hometown of Bossier City, LA with his very own day!
Did you know the LSU Baseball team already has a statewide holiday in honor of their 2023 College World Series Championship run?
In honor of the LSU Baseball team making it to the championship round of the 2023 Men's College World Series, the State of Louisiana recognized them with their own holiday. You know you're kind of a big deal when the Secretary of State declares a holiday in your honor and that's exactly what's happened. Even before our beloved Tigers won the whole shooting match, Louisiana Secretary of State Kyle Ardoin issued a proclamation that made Saturday, June 24, 2023, officially 'LSU Baseball Day' in Louisiana. How cool is that?
---
---
Did you know that LSU Baseball standout Hayden Travinski was from right here in Bossier City, LA?
Not only is Hayden Travinski from Bossier City, LA, but he also attended and played ball at both Airline High School and Loyola College Prep. In honor of our LSU Tiger Baseball team and hometown hero Hayden Travinski, Mayor of Bossier City Tommy Chandler has declared August 1st as Hayden Travinski Day AND he was given the key to the city!
---
---
This isn't the only honor that Travinski has received. He was also named the 2023 Carl Mikovich Sportsperson of the Year by the Independence Bowl and will be presented with the award at the 47th Radiance Technologies Independence Bowl on Saturday, December 16th, 2023.
---
---
Here's what Bossier City Mayor Tommy Chandler had to say about the proclamation:
Bossier City Honors LSU Baseball Player Hayden Travinski

The LSU Tigers recently won their seventh National Championship when they defeated Florida to win the Men's College World Series. Behind the plate for the Tigers' historic run was 2019 Airline High School graduate Hayden Travinski.

In April, Travinksi hit a three run home run in the 9th inning to lead a thrilling comeback win while wearing his now famous sunglasses. This led his dad Jason to sketch on a sticky note what we now know as the Hayden Travinski logo that has been printed on countless shirts and hats. Hayden uses the sales of merchandise to give back to the community for charities such as the Children's Miracle Network Hospitals.

Mayor Tommy Chandler declared August 1st, 2023, "Hayden Travinski Day" noting that the local star athlete has represented Bossier City with distinction. Travinski has received many honors including being named as the 2023 Carl Mikovich Sportsperson of the Year and will be honored with the award at the 47th Radiance Technologies Independence Bowl on Saturday, December 16th. Mayor Tommy Chandler said "Hayden, keep wearing those sunglasses because your future is bright and Bossier City is proud to have you call this community your home."
Pics From LSU's Women's Basketball National Championship Win
Pictures From LSU's 2022 Football Season
Read More: Sports Stars from Shreveport
More From News Radio 710 KEEL