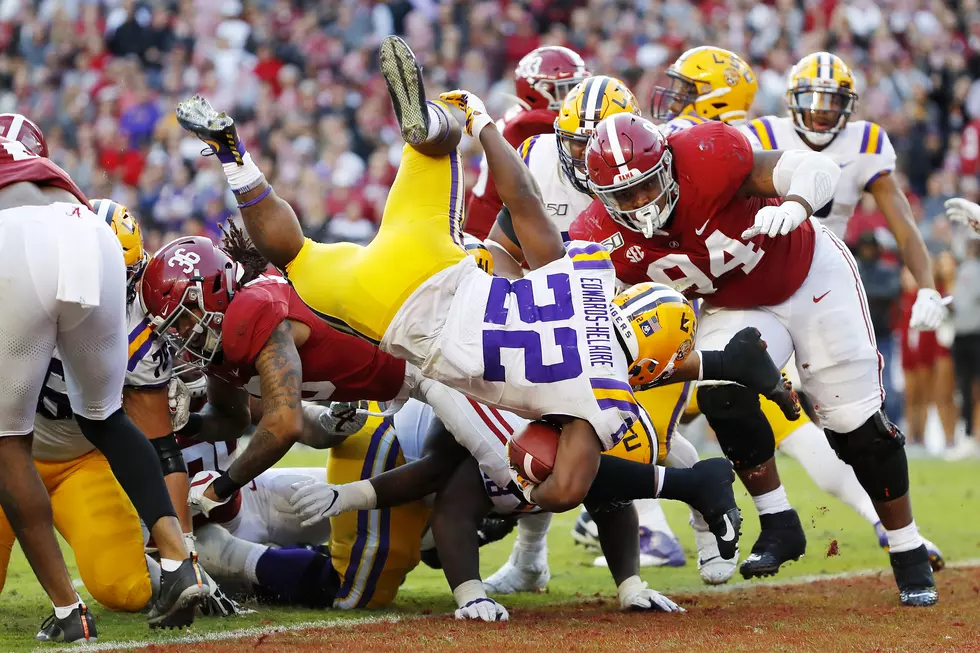 Edwards-Helaire Has One Of The Most Critical Games In LSU History
Photo by Kevin C. Cox/Getty Images
Most of the praise for this victory will go to LSU quarterback Joe Burrow, and deservedly so. Burrow has been the best quarterback in America this season, and one of the best players, period, in college football.
But tonight, it was Baton Rouge native Clyde Edwards-Helaire leading the way from his running back position.
Edwards-Helaire gained 103 yards on 20 carries against Alabama. He also ran for three touchdowns and caught another touchdown for a total of 4 on the night. With his 77 receiving yards, Edwards-Helaire accounted for 180 yards for the Tigers.
It isn't the most rushing yards a running back has ever had for the Tigers, that record belongs to Derrius Guice who ran for 285 yards against Texas A&M in 2016. His touchdown totals are also not single game records. Nothing Edwards-Helaire did tonight will live as a single game record...but it was still one of the MOST IMPORTANT games from a running back in LSU history.
After the game, someone on a broadcast said that Edwards-Helaire just had the most important game a running back has had for LSU since Jacob Hester. 
Much like Edwards-Helaire, Hester's name doesn't appear on the list of single-game rushing record holders. But on October 6th of 2007, LSU was in a Top 10 dogfight with Florida, and that night, Jacob Hester just wanted it more...
He didn't set any records, his name won't go down in any official record books for anything he did that night. But just watch that final drive, all the big, punishing runs, the 4th down, everything that went into that drive.
That night, if you heard the words "need to convert" used on the LSU offense, you know Jacob Hester was about to do whatever it took to get the job done for the Tigers. It was a game that turned Hester, and the #18, into LSU legends.
Since that October night in 2007, there have been big, record setting nights for LSU running backs. But none more important than that game. Legendary LSU broadcaster Jim Hawthorne said "I have not seen a gutsier performance by a Tiger running back, maybe ever" after Hester scored the final touchdown.
That performance led to the Tigers going 6-0 for the first time since 1973. It was also the springboard for the Tigers to the National Championship.
Tonight, Edwards-Helaire had one of those moments. Late in the game, Edwards-Helaire was caught behind the line of scrimmage. He should have been stopped for a loss, but the move he put on the defender will be remembered for a long time.
If you don't like that one, try the air born touchdown just before the half. Where Edwards-Helaire launched himself up and over for a touchdown...
Tonight was the MOST IMPORTANT game a running back has had for the Tigers since 2007. Large rushing numbers against Eastern Michigan and Ole Miss don't change programs. But games where you just want it more than the man across from you, that's what creates legends. Tonight, Clyde Edwards-Helaire became a legend.
More From News Radio 710 KEEL