A Look at Damage from This Morning's Tornado Near Plain Dealing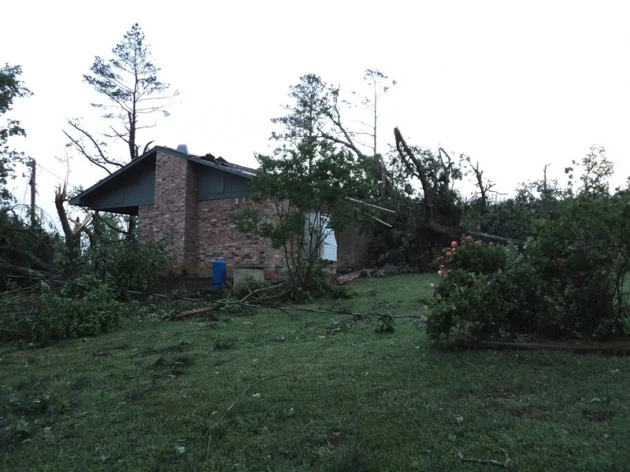 Bossier Sheriff's deputies have checked nearly 20 homes in the Buckshot Road and Highway 537 area that were primarily impacted by the early-morning tornado in the rural part of northwestern Bossier Parish.
Deputies estimate four to six homes sustained major damage, while another 10 homes have slight or moderate damage. No injuries were reported.
Lt. Bill Davis says the tornado appears to have come across the west side on the dead-end street on Buckshot Shot near the Red River and traveled in an slightly northeasterly direction to Rat Terrier Lane and Highway 537 during at least a mile-long trek.
Inmates work crews from the Bossier Correctional Facilities are clearing trees from houses this morning, while crews from the Bossier Parish Highway Department are clearing trees from the roadways.
Bossier Sheriff Julian Whittington is viewing the damaged area. Although there was significant property damage, he is thankful that no one was hurt. "It could have been a lot worse, but we are very fortunate it was property damage and no loss of life, especially after seeing what happened across the nation," he said in a news release. "We will be here as long as it takes to help get their lives back in order."
Take a look at the storm damage photos, courtesy of Bossier Sheriff's Lt. Bill Davis: