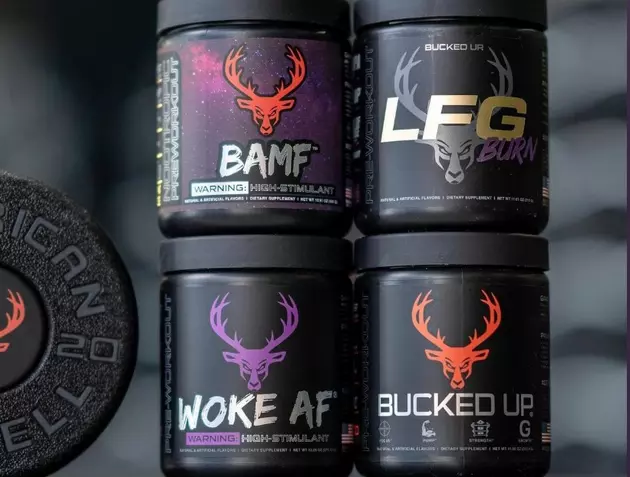 This Energy Drink Company Has Deer Antler Velvet Powder In A Mix
@buckedup on Twitter
You might have seen the catchy name "Bucked Up" on a can in a gas station cooler recently. If you happened to grab the can and flipped it over to see the nutritional information, you probably got a shock.
While these Bucked Up energy drinks have zero calories or sugars, they pack a huge punch with caffeine and other energy supplements. They have 300mg of caffeine in each can, which is a large amount, even for an energy drink. But the daily value of other supplements is actually more stunning.
Each can of Bucked Up comes with 1,250% of your daily value of vitamin B6, and 8,330% of your daily value of vitamin B12. Those aren't made up numbers, you can check it here. These cans seriously have almost 10,000% of your daily recommended intake of B12.
But those are just the pre-made energy drinks you can score at a local gas station. The company really gets nuts when it comes to their other energy offerings...like their pre-workouts.
These are powder supplements that you have to mix on your own. They pack the same kind of punch as the energy drinks. In some cases, even more. Their caffeine content per scoop is actually higher than the pre-mixed energy drinks, and some of these powders include some wild additions.
For example, their BAMF mix, and others, includes 50mg of Deer Antler Velvet Powder.
Yes. Deer Antler Velvet Powder. Here's the nutritional information from the Woke AF powder on the Bucked Up website:
This is wild. If you want to his 10,000% of your daily intake of B12, Bucked Up is for you. Want to get 300mg of caffeine in a can, Bucked Up is your target. Need to get Deer Antler Velvet Extract into your system, BUCKED UP IS YOUR OPTION.
They're also unleashing mystery boxes according to their Twitter. Sign us up.
Check Out These Mouthwatering Photos of Barbecue in Jefferson, Texas
The 45-minute drive from Shreveport is worth it when the barbecue is this good.
History Of Geek'd Con Guests
Geek'd Con is Shreveport's biggest comic and pop culture event. Launching in 2015, the event quickly became one of the premiere comic con style events in the entire state of Louisiana.
A big part of that growth has been the celebrity guest lineups. Since the first show in 2015, the quality of guests attending Geek'd Con rivals any pop culture event of this size. From classic Star Wars stars to guests from the Marvel Cinematic Universe, Geek'd Con has welcomed the biggest names from multiple generations. Here's a look at the history of guests at Geek'd Con.
Mandela Effect Examples
The three prominent features of the Mandela Effect can include:
Recalling entire events that simply did not happen.
Having warped memories where some aspects are partly or wholly false.
Several unrelated people share almost identical contorted or inaccurate memories.
More From News Radio 710 KEEL