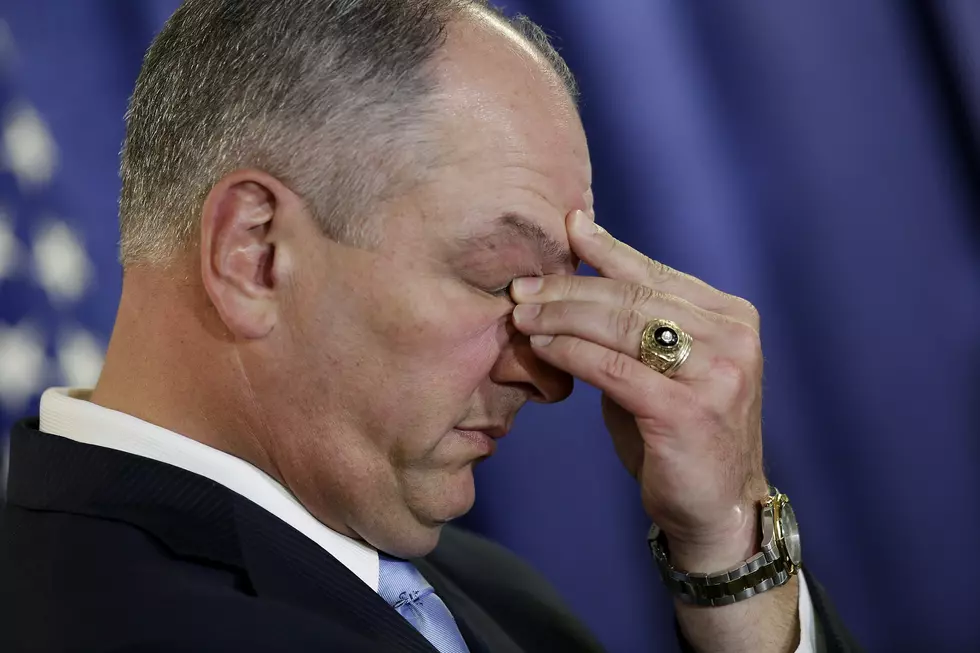 State Of Louisiana Still Sharing A Misleading COVID Statistic
Photo by Joshua Lott/Getty Images
There are still some lingering reminders of the COVID Pandemic around, but some experts have already declared that the situation has moved from "pandemic" to "endemic". Which, by a technical definition, the fact that we are operating under pretty normal standards is the indication that we're in the "endemic" phase.
But as we've covered before, there are some who do not want to let go of the "pandemic" phase. They live in a "COVID zero" mindset, and think we should still be under heavy lockdown, no matter what the impacts on education, economy, and life expectancy would be.
Many of those are random public individuals, you don't hear many elected officials still pushing the "COVID zero" mindset. However there are still pockets of that behavior that does pop up occasionally. Where we've seen schools jump back into masking, hospitals launching mask requirements, or municipalities require masks again. So what are those officials looking at to make those decisions?
Months ago, we were advised by world medical leaders to ignore daily COVID case numbers after vaccines were launched. Since then, therapeutics have come onto the market, and ultimately natural immunity from prior infections has built a wall of immunity in our communities. COVID related deaths have dropped drastically, and serious cases have evaporated as well. We have multiple layers of protection offered to millions of Americans. This has drastically changed the scenario. So why are we still using the old metrics?
The Louisiana Department of Health publishes their COVID dashboard online on weekdays. The dashboard looks a lot different than it did when it launched in 2020, but for the most part, its the same data. Which is pretty wild based on all of the changes we've seen with the pandemic/endemic.
One of the first issues is the separation between "confirmed" cases and "probable" cases. Every day the numbers are published, the main dashboard shows those two number combined, showing a substantially higher number that what's truly confirmed. For example, the Monday, August 1st, 2022 numbers shown on the LDH Dashboard was over 3,000 cases...but nearly 1,000 of those were "probable". That means the actual number was closer to 2,000, but LDH put a big bold 3,000 number out front.
Now what if there was another number on that LDH Dashboard that didn't tell the whole story, but instead sold a more sensationalized tone? That's a pattern.
The LDH Dashboard continues to show one overall Hospitalization number. They break out an average, and ventilation usage as well...but the main focus is that Hospitalizations number. One that you would assume, in this context, meant that many people were hospitalized due to their COVID symptoms. But that wouldn't be the case. When LDH publishes that number, they're not telling you about those hospitalized FOR COVID, they're telling you what that number is PLUS those who are hospitalized for something else and HAPPEN TO HAVE COVID.
This is something that was admitted to a while ago. Hospitals have seen more people being hospitalized WITH COVID than FOR COVID for over a year. Now some states have actually made this change, including Massachusetts, in their reporting. Which gives us a great example.
Last week, on July 28th, Massachusetts reported that 171 people were hospitalized FOR COVID, while there were 616 people hospitalized WITH COVID. A staggering difference, creating a misleading scenario if you don't have the context. If you don't separate those numbers, and continue to push the metric, it appears that you are willfully misleading the public to fit an agenda. It makes it look like you want the public to feel like COVID is sending many more people to the hospital than it actually is.
If these two metrics are being reported with a slant, what else could be hidden inside this information?
Take a Peak Inside Shreveport Mayoral Forum
Huge crowd shows up to hear 10 candidates for Mayor of Shreveport.
What States Have the Worst Roads
Where does Louisiana fall on the list of shabby roads?
More From News Radio 710 KEEL