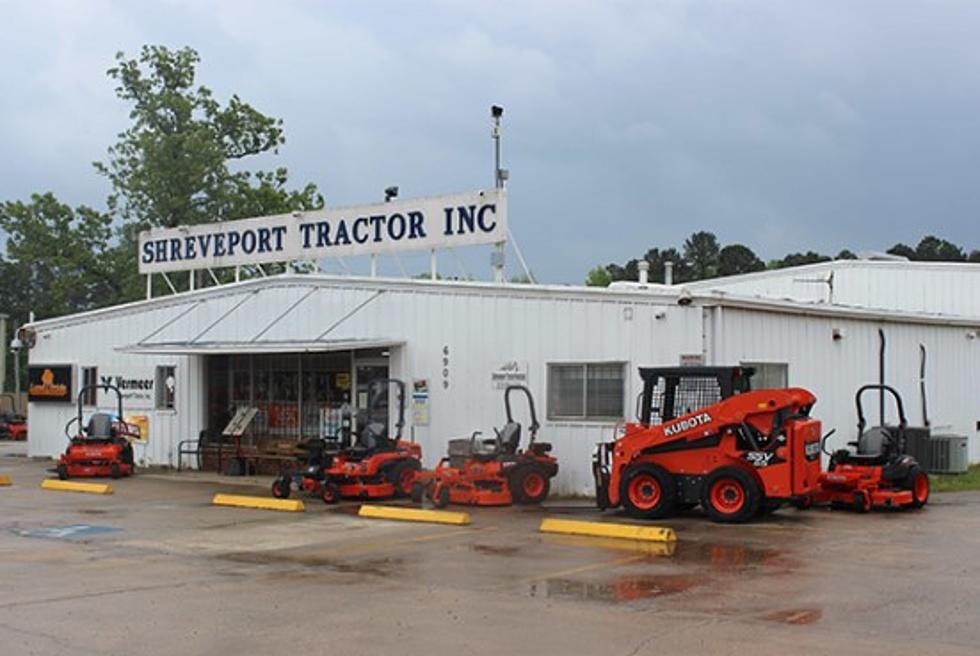 Shreveport Tractor Sadly Closing Its Doors After 50 Years of Service
Courtesy Shreveport Tractor
After fifty years of service, it looks like the coffee pot will finally be turned off at Shreveport Tractor.
The Kubota dealership has announced they'll end operations on Saturday, July 31.
Kiss Country spoke with Mary Beth Forsythe, the Secretary/Treasurer and co-owner of Shreveport Tractor, today, and she states that this announcement has certainly brought a wealth of mixed emotions.
She says, "This was Daddy's dream and legacy and we've done a good job taking care of it. But on the other hand, I'm kinda looking forward to a day off to go fishing."
As she mentioned, Shreveport Tractor was the legacy of C.D. Kelly, who passed away in 2007. Mr. Kelly, a former travelling sales representative for Ford Tractor, was given the opportunity to purchase the old River City Ford in 1971.
Quitting his position with Ford, Kelly purchased that dealership which was on North Market in north Shreveport at that time, but in 1972, he purchased a piece of property in west Shreveport at the present location of Shreveport Tractor on Westport Avenue.
He moved his recently acquired Ford Tractor dealership to that site and changed the name to Shreveport Ford Tractor.
Over the next decade, Kelly and his knowledgeable, friendly, accommodating staff helped the dealership to quickly rise to an enviable position in regards to sales/service in the entire stable of Ford dealers.
Then, in 1985, Ford bought New Holland and in 1990, Fiat bought what had become "Ford New Holland".
The change just never resonated well with Kelly, so in 1993, Shreveport Ford Tractor dropped the "Ford" from their name and became Shreveport Tractor as they picked up the Kubota line of tractors and mowers. Though Kubota had originally come to the United States in 1969, the line of tractors was still relatively unknown to most people in North Louisiana, but has since become a household name for many farmers and home owners.
The announcement of Shreveport Tractor's closing does leave some unanswered questions in regards to sales and service for Kubota tractors and mowers in our area, but Mary Beth Forsythe has assured me that those questions should all be answered from Kubota by this October.
Hopefully someone will be able to get that coffee pot turned back on!
Thank you for all the years Shreveport Tractor! Job well done!  Now, go have fun doing a little fishing!
Businesses Shreveport Has Lost Through the Years
26 Nashville Stars With Arklatex Roots
More From News Radio 710 KEEL