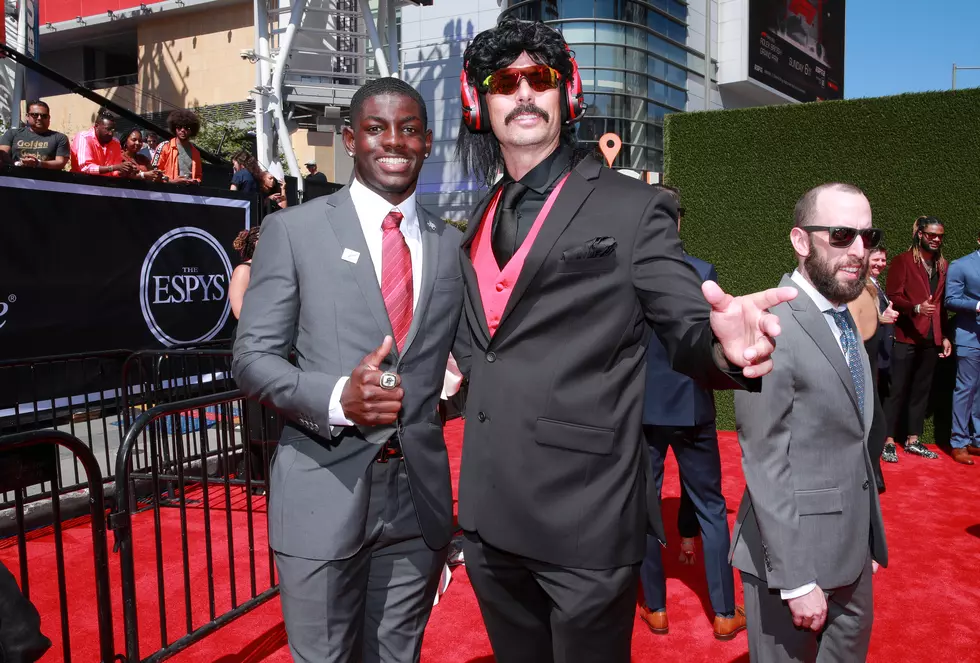 One Year Since Dr. Disrespect Was Banned On Twitch
Photo by Rich Fury/Getty Images
This weekend will mark one year since the biggest name in eSports streaming was banned from the biggest platform in eSports streaming.
Dr. Disrespect was the Face of Twitch in June of 2020. He had an exclusive contract to make sure that his daily live streams were only featured on the Twitch platform, and he was delivered viewers by the arena-load.
But on June 26th, 2020, that all changed. Mid-stream on Doc's channel, he started acting odd. He was no longer playing games, he was pulling up other content to play in the background as he checked his phone, reacted to something that was happening off stream, and eventually delivered some cryptic comments, before disappearing. Here's the video of Doc's final Twitch broadcast...
In the hours after that broadcast, there was a ton of speculation on the internet. After all, this was the biggest name in a multi-million dollar industry who was just shut down. But a lot of the response in the immediate aftermath was all nonsense in the long run. Especially when there were some clout-chasing "journalists" who posted suggestions that they "knew" why he was banned, but refused to release the info. Executing the best lie they can, one you can't prove.
But the more time went on without anything official from either Twitch or Doc, the more people realized those "journalists" didn't actually have the info they claimed to. Because it was obvious no one did. Though there were some who had a better idea than others. An "educated guess" if you will.
One of the biggest digital attorneys on YouTube jumped into the discussion pretty early on, and kept following the story along the way. His approach, unlike the clout chasers, was that the silence was normal behavior in these types of contract disputes. What contract dispute? Well, Twitch broke their contract with Dr. Disrespect of course.
But not long after many started to recognize that it was obvious that Doc didn't break the law, or commit some unspeakable acts, he was primed for a return to streaming. The public and fans were able to recognize that Doc wasn't being dropped by his major sponsors, which would be an quick move if what he was banned for was serious in any way. His two biggest sponsors, Mt. Dew and Razer, both kept him on, signaling that whatever happened wasn't serious.
After a lengthy break, Doc made his way back to online streaming. But nowhere near Twitch, he came back to the place that his first ever video premiered. He was going to Youtube.
When he did, it broke records...
At his peak the first time he live streamed his face on Youtube hit more than 500,000 viewers at a single time. That trend has continued during his run on Youtube, with regular streams of high level gameplay, huge production values, and tournament play.
But a full year later, there's no official word yet. We don't know why Doc was banned by Twitch (even though one theory seems to be the most agreed upon right now) but some of those who posted about Doc's ban within the first hours it was issued have changed their tune.
Fellow controversial streamer Amouranth posted initially that she didn't believe that Doc was unaware of why he was banned by Twitch. But in the last week, she has posted that she has retracted that initial opinion, and now believes that Doc doesn't actually know why he was banned.
One year later, we don't know why it happened. Honestly, that drives me crazy at least once a week to think about.
Best Places to Hunt for Bigfoot in Northwest Louisiana
If a Bigfoot is located in Northwest Louisiana, here are the places you're mostly likely to find one. This list is complied from dozens of articles, official expert research and locals who claim to have seen the mythical creature.
History Of Geek'd Con Guests
Geek'd Con is Shreveport's biggest comic and pop culture event. Launching in 2015, the event quickly became one of the premiere comic con style events in the entire state of Louisiana.
A big part of that growth has been the celebrity guest lineups. Since the first show in 2015, the quality of guests attending Geek'd Con rivals any pop culture event of this size. From classic Star Wars stars to guests from the Marvel Cinematic Universe, Geek'd Con has welcomed the biggest names from multiple generations. Here's a look at the history of guests at Geek'd Con.
More From News Radio 710 KEEL