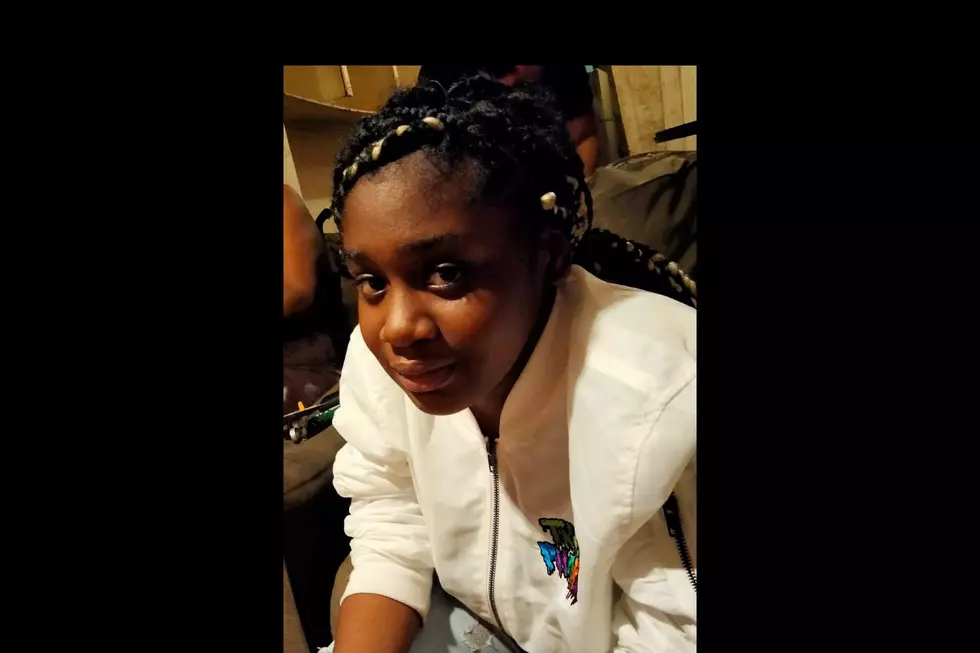 Have You Seen This Missing Shreveport Child?
SPD
Shreveport Police are asking the public for help finding 15 year old runaway child, Bernecia Johnson.  She is described as 4'5" tall, and weighs approximately 120 lbs.  She has black and blonde braided hair, and was last seen wearing bleach-washed blue jeans with several holes, and a beige sweater and gray slippers.
She was last seen at 2800 Jonathan Lane getting into a light gray Ford Focus.
The Department of Children and Family Services offer these tips if your child goes missing
Contact your local law enforcement IMMEDIATELY!
Often the first 24 hours are the most critical for locating a missing child.
If the child is missing from home, begin by thoroughly searching the house. Be sure to check any places a child could crawl, hide, and possibly fall asleep.
If your child disappears when you are away from home -- at a shopping center, for example -- notify the manager of the store and the security office. Request assistance in finding your child. Then telephone the police immediately.
If your child has run away, contact friends of the child; chances are good they've confided their plans to a friend. This information should be provided to law enforcement.
When talking with law enforcement, try to stay calm. Identify yourself, and give your location. Ask that an officer be sent to take a report on your missing child.
Be prepared to give descriptive information on your child including name, height, weight, and date of birth. Also provide information on specific identifiers such as eyeglasses, braces, pierced ears, and a description of the clothing your child was last seen wearing.
Listen carefully to the instructions of the police and respond to their questions.
Request that your child be immediately entered into the National Crime Information Center's (NCIC) Missing Person File. This will assist other law enforcement agencies in identifying your child if they are located in another community. An NCIC entry for a missing child is required by state and federal law.
Contact the Louisiana Clearinghouse for Missing and Exploited Children by calling 1-800-434-8007.
Contact the National Center for Missing and Exploited Children by calling their nationwide toll free number 1-800-THE-LOST.
Shreveport Police ask that if you have any information regarding the whereabouts of Bernecia Johnson, please contact them immediately at 318 673-7300
Missing Children From Louisiana
The search continues for these missing children from Louisiana. Authorities need your help to locate these youngsters.
Missing Children from Louisiana
The National Center for Missing and Exploited Children asks for help from the public to find these missing Louisiana children.
Tier 3 Sex Offenders in Webster Parish
The following gallery is a list of all the tier 3 Sex Offenders currently residing in Webster Parish. A Tier 3 Sex Offender is anyone who has committed a sex offense that is punishable by more than one year in jail where the offender has at least one prior conviction for a Tier 2 sex offense, or has previously become a Tier 2 sex offender, is a "Tier 3" offense. B. General Offenses. A "Tier 3" offense includes any sex offense for which a person has been convicted, or an attempt or conspiracy to commit such an offense, that involves: 1. Non-parental kidnapping of a minor, 2. A sexual act with another by force or threat, 3. A sexual act with another who has been rendered unconscious or involuntarily drugged, or who is otherwise incapable of appraising the nature of the conduct or declining to participate, or 4. Sexual contact with a minor 12 years of age or younger, including offenses that cover sexual touching of or contact with the intimate parts of the body, either directly or through the clothing.
More From News Radio 710 KEEL