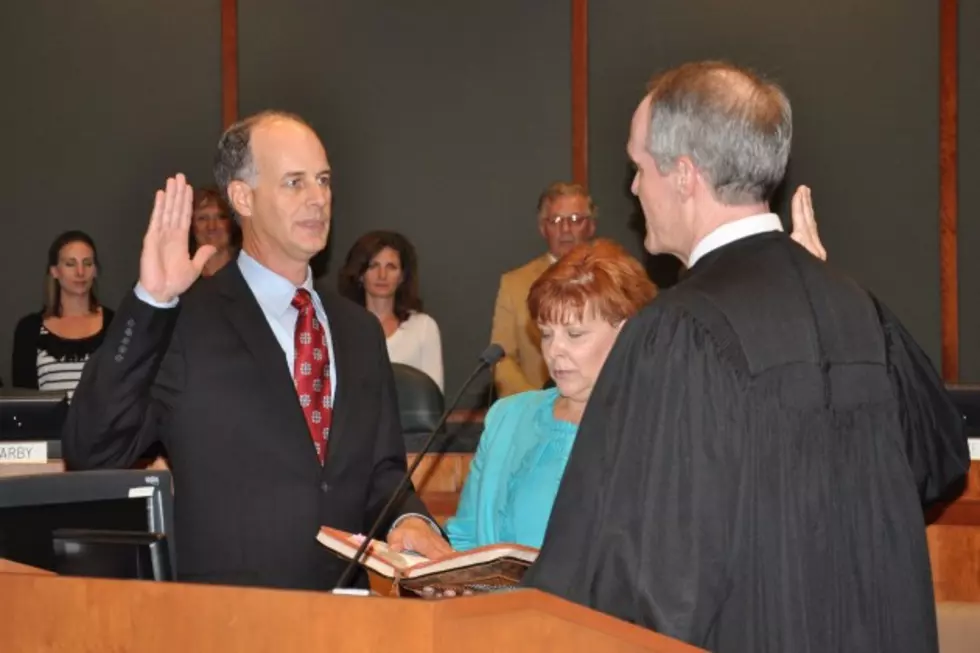 Bossier Sheriff Discusses School Safety Following Connecticut School Shooting
Bossier Sheriff Julian Whittington (Photo by Lt. Bill Davis, Bossier Sheriff's Office)
Bossier Sheriff Julian Whittington has released the following statement regarding the safety and security of Bossier Parish schools in light of the Sandy Hook Elementary School tragedy in Connecticut. 
This is courtesy of Sheriff's Lt. Bill Davis:
I am deeply saddened by the murder of innocent children and teachers in Newtown, Conn., this past Friday, and I ask that everyone keep the families and friends of those devastated by this horrific act in your thoughts and prayers.

As the chief law enforcement officer for Bossier Parish, my mind quickly thought of the nearly 22,000 students who attend our Bossier Parish schools and the responsibility my deputies and I have in protecting our children and teachers.   I want to ensure our residents that the cooperation between the Bossier Sheriff's Office, Bossier Parish School Board and Bossier City Police Department is exemplary and that Bossier Parish is a very safe place to live, work, go to school and raise a family.

Make one thing clear, though – while we cannot keep every school campus 100% safe, I want the residents of this parish to know that I will do everything in my power to protect our schools and our most precious gifts – our children.

We have 13 School Resource Officers in all Bossier Parish high schools, middle schools and alternative schools, and I couldn't be more proud of the work they do each and every day.   Having armed law enforcement officers at our schools is not something that was even considered when I started law enforcement more than two decades ago, but we live in different times today.

We are also continually seeking ways to make our schools even safer and develop the best security improvements in our 19 elementary schools here in Bossier Parish.  In the last few days, we have already increased patrols in our elementary schools to ensure the safety of our children, and I've asked our D.A.R.E. officers and other deputies to make more visits to the schools, have lunch with the students and visit with the principal to assist in any way.

Every principal in Bossier Parish schools already has a walkie-talkie where they can communicate directly with either the Bossier Sheriff's Office or Bossier City Police Department.  There are also hundreds of portable radios used by the faculty and SROs at the schools to ensure communication lines are always kept open.

Each school campus has security cameras that are linked to either the Sheriff's Office or Bossier City Police so that we will have complete visuals of any school in order to pass real-time information to the school or our law enforcement officers as needed.  Our first responders also have complete information about each school's campus, photos of the school and a diagram of the school to quickly respond to an emergency.

Each teacher is equipped with an emergency guide to be used as a quick reference for any emergency at their schools, and security drills are held parish-wide twice a year, while schools can hold drills as needed.  In an emergency or crisis lockdown, we ask our teachers to ensure their doors are locked and keep students away from doors and windows.

I want everyone to know that we will continue to do everything we can to ensure the safety of all residents in Bossier Parish and that we will continue to look for ways to improve security at our schools.  I want our residents to know their Bossier Sheriff's Office is committed to their public safety…especially when it comes to the safety of our children.
More From News Radio 710 KEEL