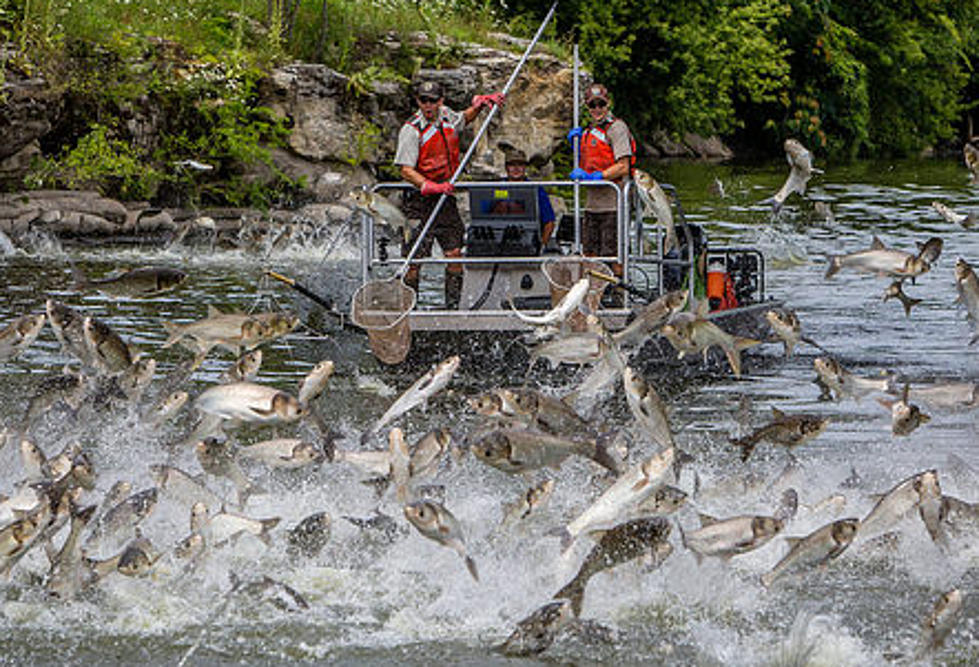 Another Startling Invasive Fish Species Just Found in Red River
Ryan Hagerty, U.S. Fish and Wildlife Service
In an email I just received from Texas Parks and Wildlife, they disclosed that in late June, an invasive silver carp was spotted in Choctaw Creek, a Texas tributary of the Red River approximately 15 miles downstream from Lake Texoma.
So, you're thinking, "It's just a carp. What's the big deal?"
Have you seen the videos on YouTube of what these silver carp are capable of? Not only can they completely take over a body of water, they are extremely hazardous to unaware boaters as they can jump literally ten feet out of the water when startled by watercraft.
Just watch.
Imagine how dangerous it would be for a four year old child to get hit by one of these big fish if they were a passenger in a boat travelling through an invaded area at forty miles per hour. It could prove deadly.
Now, some have learned to have fun with the species as seen in this video.
All kidding aside, TPWD doesn't pull any punches when they state that silver carp and the closely-related bighead carp are bad news for Texas.
According to Monica McGarrity, TPWD Senior Scientist for Aquatic Invasive Species, "These invasive carp are not native to the U.S. but have been introduced and become established and problematic in numerous states, primarily in the Mississippi River Basin. Both of these invasive carp species are filter feeders and have the potential to cause significant changes in native fish populations by competing with other filter feeding fish species such as shad and buffalo, and even larval sportfish that also rely on plankton as a food source in their first couple of months."
Obviously, if these silver carp have been discovered downstream of Lake Texoma in the Red River, the odds are extremely good, they'll make their way southward towards Shreveport/Bossier.
Even closer to home, bighead carp, another closely related invasive species, had been documented in the Red River and tributaries downstream of Lake Texoma. In addition, bighead carp were documented in the Sulphur River downstream of Lake Wright Patman and Big Cypress Bayou downstream of Lake O' the Pines.
To prevent the spread of these invasive species, which look much like shad when small, the Texas Parks and Wildlife Commission passed regulations making it illegal to transport any live nongame fish from these water bodies. Anglers are urged to follow these rules to prevent introducing these species to other water bodies when using them as bait.
Texas Hunting Ranch for Sale Includes Western Town & Lazy River
The Vista Verde Ranch for sale in Medina County, Texas sits on 643 acres and features a western town, lazy river, and lots more.
Wikipedia Lists These Nicknames for Louisiana Cities
25 Most Popular Movies That Filmed in Shreveport
Once upon at time, Shreveport was one of the hottest filming destinations in the country. We had everything from major blockbusters to low-budget indie films shot here. So, here are the most popular films shot right here in Shreveport
according to IMDB
. This contains only movies, not television shows. If we included TV shows, True Blood would be number 1 with a bullet.
More From News Radio 710 KEEL