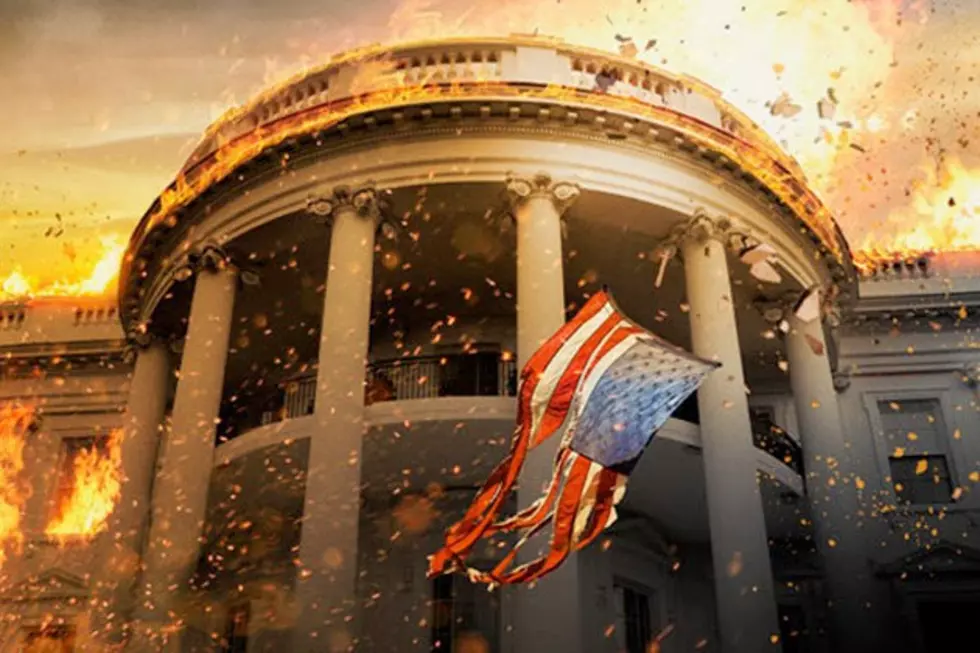 Weekend Box Office Report: 'The Croods' and 'Olympus Has Fallen' Rise to the Top
FilmDistrict
You can't imagine two films more different than 'The Croods' and 'Olympus Has Fallen,' but right now the two of them sit on top of the box office chart, both temporarily linked by the fact that a bunch of people apparently wanted to see them this weekend. It's the first time in forever that two films have opened to over $30 million at the same time...but it wasn't golden for all of the new releases.
Film
Weekend
Per Screen
1
The Croods
$44,700,000
$11,048
$44,700,000
2
Olympus Has Fallen
$30,500,000
$9,845
$30,500,000
3
Oz the Great and Powerful
$22,031,000 (-46.6%)
$5,790
$177,559,000
4
The Call
$8,700,000 (-49.2)
$3,470
$30,904,000
5
Admission
$6,446,000

$2,984
$6,446,000
6
Spring Breakers
$5,000,000 (+1,801.1)
$4,529
$5,407,000
7
The Incredible Burt Wonderstone
$4,275,000 (-58.0)
$1,353
$17,365,000
8
Jack the Giant Slayer
$2,965,000 (-53.1)
$1,158
$59,052,000
9
Identity Thief
$2,545,000 (-42.4)
$1,175
$127,727,000
10
Snitch
$1,930,000 (-44.9)
$1,068
$40,343,000
Let's start with the film at the top of the pile. 'The Croods' has a bizarre concept that put off one adult for every child it intrigued, but never underestimate an animated movie after a lengthy dry spell of family entertainment. Sure, 'Oz the Great and Powerful' helped satiate kids and their ever-annoyed parents, but animation is what really brings the young ones in. With a $44.7 million opening, 'The Croods' has a long way to go if it wants to reach the heights of your typical Pixar or DreamWorks film, but it's a nice start. $150 million is the minimum number it'll need to look like a success and if it plays through April, it should be able to get there.
While all of the kids went to see 'The Croods,' their older brothers flocked to 'Olympus Has Fallen' to watch Gerard Butler play "Die Hard in the White House." Since it's modestly budgeted by Big Action Movie standards (around $70 million), it's most likely going to break even, but audiences need to actually like the movie if it stands a chance of being a hit. The more interesting story here is what this means for the upcoming 'White House Down,' which is literally an identical concept with a bigger budget. Will audiences have White House Siege Movie fatigue once summer rolls around? That's such a bizarrely specific question that it can only exist in the film industry.
Meanwhile, last week's champions took relatively graceful falls to third and fourth place. 'Oz the Great and Powerful' took a large but expected drop, taking in $22 million for a $177 million total. $200 million is a certainty but $250 million remains a possibility if April doesn't bring too many surprises. Right below it, 'The Call' took a sizable drop, but it's made $30 million and it was made for pennies, so it's going to be okay. It's not a smash, but it's a nice jolt into the arm for Halle Berry's career. Does she have a future as a classy horror/thriller heroine? It's possible.
The weekend's third major release, 'Admission,' flopped into the fray in spot five with a $6.4 million opening. The film didn't cost too much, but it's evidence that while Paul Rudd and Tina Fey are truly some of the best and most talented comic personas working today, they simply can't open a movie on their names alone. And that's sad.
In sixth place, 'Spring Breakers' rode last week's wildly successful limited release to a $5 million weekend, paying for its minuscule budget, baffling thousands of teenagers and making director Harmony Korine laugh uproariously as he plotted his next practical joke of a film. 'Spring Breakers' has officially divided both critics and audiences, making it easily the weirdest and most fun movie to talk about of the year so far. It's hard to imagine it making much more money, but bless it for actually opening wide.
As for the rest of the top ten? Meh.
'The Incredible Burt Wonderstone' continued to be dead on arrival, taking a disastrous drop for a $4.2 million weekend. 'Jack the Giant Slayer' has made more, but a $60 million gross simply isn't enough when your movie cost upwards of $200 million. On the very bottom, 'Identity Thief' is ready to leave the top ten as a box office smash and 'Snitch' will exit as a minor success.
Next week, 'G.I. Joe: Retaliation' opens after a lengthy delay. It's probably going to make a lot of money.
More From News Radio 710 KEEL