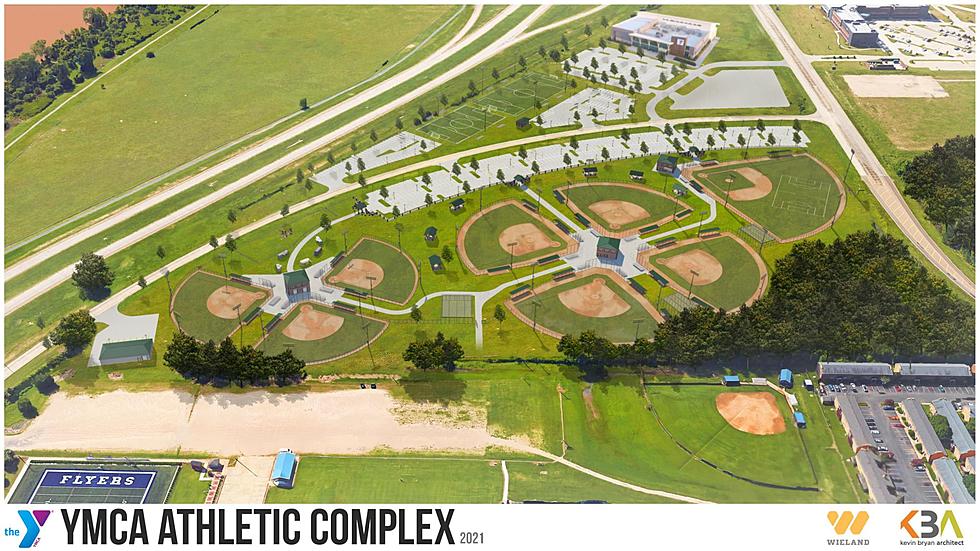 Shreveport YMCA Set to Break-Ground for New Baseball Complex
YMCA
Shreveport's YMCA will be starting a huge project in July! A huge multi-field baseball/softball complex will be added to the facility's land.
The YMCA reached out to let folks know about the groundbreaking ceremony taking place next month. The YMCA released this statement:
The YMCA of Northwest Louisiana invites the entire community to its groundbreaking ceremony to be held July 12 at 9:30AM. The YMCA encourages entire families to attend. The 30-45 minute ceremony will be family friendly with games, inflatables, and a festive atmosphere.

The groundbreaking will be held at the Home of Shreveport Little League immediately adjacent to the BHP YMCA at 3455 Knight Street in Shreveport. The YMCA of Northwest Louisiana announced last week that it has completed a $7M "break ground" capital campaign to begin construction on its new tournament-grade Youth Baseball and Softball Complex.

The YMCA will continue to raise monies to reach the final project number. The capital campaign to build the Youth Baseball and Softball Complex has been a true community-wide effort. Numerous private and corporate donors have participated as well as the City of Shreveport with a $1.5M donation and Caddo Parish Commission with a $2M donation.

"This facility will not only allow kids to play baseball locally and support the growth of Shreveport Little League", says Gary Lash, CEO of the YMCA of Northwest Louisiana. "It will also enable us finally to begin capitalizing on our incredible geographic advantage. We sit right between Little Rock, Dallas and Jackson. This facility will allow travel teams from north, west and east of us to meet in the middle for numerous competitions and tournaments throughout the year. The long-term economic impact of this project will be massive."

The Shreveport-Bossier Sports Commission estimates the the new complex will generate an economic impact of $5M in year one. The YMCA of Northwest Louisiana expects the total number of annual visitors to the complex to increase from 54,352 to 341,672. Construction will begin in July with the goal of having the complex open for the Spring 2024 Shreveport Little League baseball and softball seasons.
Judging by the mock-up picture this is going to be one BIG project! And many people can hardly wait to see the bats swing at this awesome new complex.
Top Dining Destinations in Shreveport Bossier to Take Visitors
Shreveport has many great restaurants. We picked out some of our favorites for you to take the family and friends if they are visiting from out of town..
75 Of The Most Famous People From Louisiana
The Most Searched Craft Beer Brand in Louisiana
More From News Radio 710 KEEL