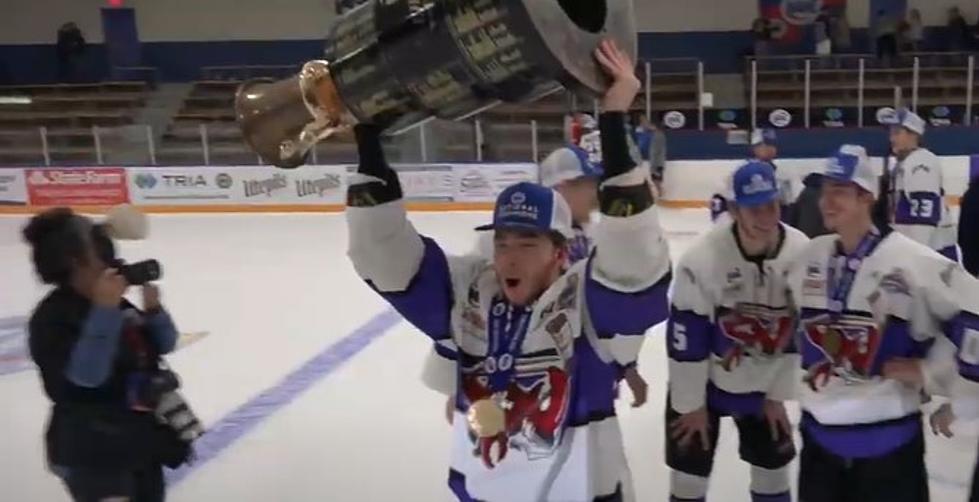 Shreveport Mudbugs Make It To NAHL Championship Game
North American Hockey League via Youtube.com
The Shreveport Mudbugs are one win away from capturing the Robertson Cup, the championship of the North American Hockey League (NAHL). After winning their semi-final series clinching game Saturday night, the Bugs are now set to take on the Aberdeen Wings on Tuesday night, with the winner of that game bringing home the Robertson Cup.
For the Mudbugs, their semi-final series put them in a best-of-3 set against the Maine Nordiques. Their first matchup was Friday night, which was a 4-1 win for Shreveport.
In Friday night's game, the Maine Nordiques got on the scoreboard early, getting their first goal just 34 seconds into the game. But Mudbugs goalie Cole Hudson shut them down for the rest of the night, stopping 25 of the 26 shots he faced. On the scoring side for the Bugs, Giovanni Procopio led the way with two goals. The other Mudbugs who scored goals Friday were Garrett Steele and Adam Kolcon.
Saturday night was a 5-1 win for the Mudbugs, for a series clinching win. This time, the Bugs struck first, but not quite as early Maine did the night before. Just 2:14 into the first period, Braiden Dorfman scored his first goal of the night. Dorfman had a great night for the Bug, playing up to his accolades from this year. Dorfman was named the South Division Most Valuable Player & Forward of the Year by the NAHL this season. He tossed in another goal in the first period, putting the Bugs up 2-0 at the end of one.
The Bugs extended their Game 2 lead to 4-0 by the start of the third period. Billy Feczko and David Breazeale both put in goals in the second period, and Dawson Sciarrino finished off the night with an unassisted goal in the third.
On the other side of the Robertson Cup Championship Game will be the Aberdeen (South Dakota not Washington) Wings. A team that put together one of the most incredible seasons in NAHL history. The Wings had a record of 51-5 (51-4-0-1) this year. That's right, just 5 loses, and one of them coming by shootout. The second highest win total this year was the Johnstown Tomahawks who had 39, followed by Shreveport and Lone Star who were both tied at 38 wins.
Aberdeen had a total goal differential of +176 goals this year, 100 more goals than the second highest team in the league.
The Mudbugs and Aberdeen Wings will play Tuesday night at 7pm Central, at the Fogerty Ice Arena in Blaine, Minnesota. Winner will be crowned the Robertson Cup Champions.
Read More: Sports Stars from Shreveport
More From News Radio 710 KEEL