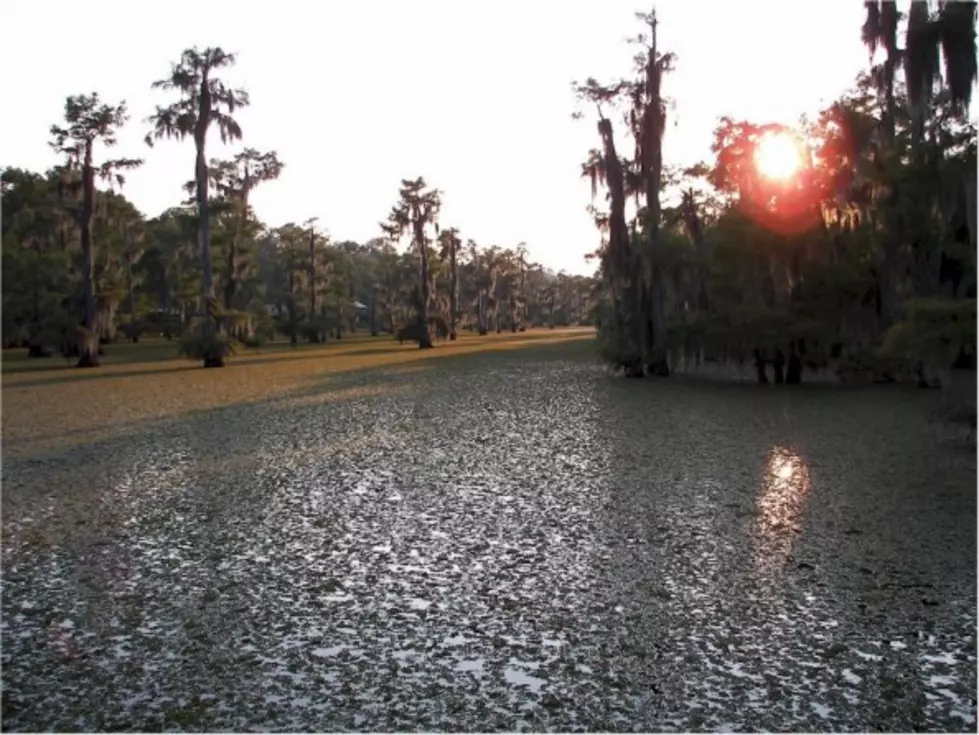 Lake Bistineau to be Drawn Down Beginning May 1, 2017
Photo from the Bossier Parish Police Jury
For the past several years, due to the growth of giant salvinia, Lake Bistineau has been drawn down usually in August or September.  However this year, according to the Louisiana Department of Wildlife and Fisheries, due to the rapid growth of this aquatic vegetation, the lake will begin it's eight foot draw down on May 1, 2017.
The Louisiana Department of Wildlife and Fisheries (LDWF) has scheduled a drawdown of Lake Bistineau in Webster, Bossier, and Bienville parishes for giant salvinia control, organic reduction and fish habitat improvement. The water control structure is scheduled to open on May 1, 2017.
Giant salvinia is growing rapidly. Despite LDWF contractors treating over 5,000 acres since February 20, 2017, significant coverage is still present. The department estimates the plant covers 3,349 acres of the lake based on an aerial survey conducted on March 23, 2017.
The lake should dewater at a rate of 4 to 6 inches per day and will be lowered to a maximum drawdown level of 8 feet below normal pool stage. The Lake Bistineau control gates are scheduled for closure on November 30, 2017, to allow the lake to refill for winter and early-spring recreational activities.
 
During the drawdown, an estimated 10,000 acres of water will remain in the lake. Boaters can access the lake from the following public boat launches: Port of Bistineau Launch, Bossier Public Launch, Grice's and Bayou Dorcheat Public Launch. Boaters are advised to use caution during the low water period, as boat lanes will not provide normal clearance of underwater obstructions. 
 
This action is a necessary component of LDWF's integrated management plan to control overabundant aquatic vegetation growth and to improve the Lake Bistineau sport fishery. An annual cycle of high and low water fluctuation can provide beneficial effects similar to a natural overflow lake system.
 
The current LDWF Lake Bistineau Management Plan can be viewed at: http://www.wlf.louisiana.gov/fishing/waterbody-management-plans-inland. 
 
For additional information regarding the drawdown, contact Jeff Sibley, LDWF Biologist Manager, at jsibley@wlf.la.gov or (318) 371-3066.
More From News Radio 710 KEEL