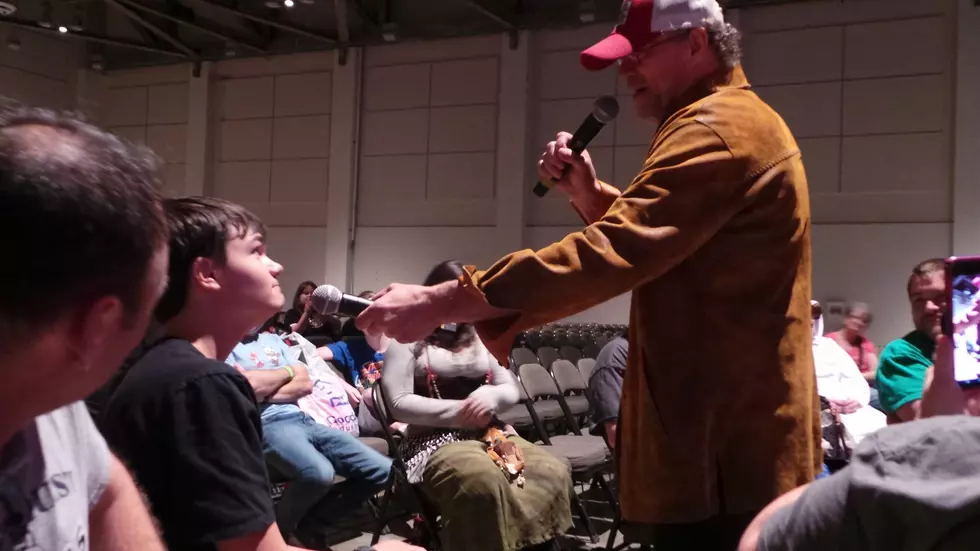 Geek'd Con 2023 Panel Schedule
Michael Rooker at Geek'd Con in Shreveport - TSM Live Events
Shreveport's comic con, Geek'd Con, is heading back to the Shreveport Convention Center. The dates this year are August 18th through 20th, 2023.
Since its start, Geek'd Con has been one of the premiere comic con style events in the state of Louisiana. The event has generated millions of dollars in economic impact to the Shreveport and Bossier City area. While also bringing in Rock & Roll Hall of Fame members, Star Wars icons, Pro Wrestling Hall of Fame members, and horror movie legends.
Tickets for this year are available here.
This year's guests include Kevin Smith, Brandon Routh, Sam Witwer, John Barrowman, Estelle (and the rest of the Crystal Gems from Steven Universe), Kurt Angle, and more. Along with Kevin Smith, a huge cast reunion for his films will be happening in Shreveport.
Every year at Geek'd Con fans get to enjoy panel discussions with their favorite guests. Its always been a big part of the show, and it will be bigger this year. Because, for the first time ever, Geek'd Con will feature two panel rooms. The main room will feature the cosplay contest and headliner guests, while the second room will feature LEGO speed building, and a TON of great anime guests.
Both panel rooms are brought to you by the US Army and their eSports team!
Now, there will be some differences with panels this year, due to the ongoing Hollywood strikes, not all topics can be discussed. But it won't be bad at all, we just get to talk about things you normally wouldn't get to hear about!
Also, this year Geek'd Con welcomes the team from Gabe's Cave to host the panels!
So let's check out what we're looking at this year:
THE PANEL SCHEDULE IS SUBJECT TO CHANGE. Times and guest availability can change at any time. Make sure you've downloaded the Geek'd Con app so you can get updates during the show. 
Saturday
Main Panel Room
11:00am-11:45am - US Army eSports
12:00pm-12:45pm - Joey Lauren Adams
1:00pm-1:45pm - Sam Witwer
2:00pm-2:45pm - Brandon Routh
3:00pm-3:45pm - Estelle, Michaela Dietz, and Deedee Magno Hall
4:00pm-4:45pm - Kevin Smith
5:00pm-5:45pm - John Barrowman
6:00pm-6:45pm - Nadji Jeter
Second Panel Room
11:00am-11:45am - Barry Lowin
12:00pm-12:45pm - Scott Innes
1:00pm-1:45pm - Krystle Starr
2:00pm-2:45pm - Veronica Taylor
3:00pm-3:45pm - David Howard Thornton
5:00pm-5:45pm - @Leigh_McNasty
Sunday
Main Panel Room
12pm-12:45pm - Jason Mewes
1:00pm-2:00pm - Cosplay Contest
2:15pm-2:45pm - Jennifer Schwalbach Smith & Harley Quinn Smith
3:00pm-3:45pm - Brian O'Halloran, Jeff Anderson, & Marilyn Ghigliotti
4:00pm-4:45pm - Sean Biggerstaff
Second Panel Room
12pm-12:45pm -  Sarah Roach
2:15pm-2:45pm - Richard Harmon
3:00pm-3:30pm - Dallas Reid & Jill Harris
3:45pm-4:15pm - Kent Williams
Geek'd Con 2023 Lineup
Geek'd Con is coming back to Shreveport for another awesome year. This year the show is August 18th-20th 2023. Most guests will appear on Saturday and Sunday, but sometimes a guest will stop by on Friday night as well. Some of the guests will also be appearing for just one day.