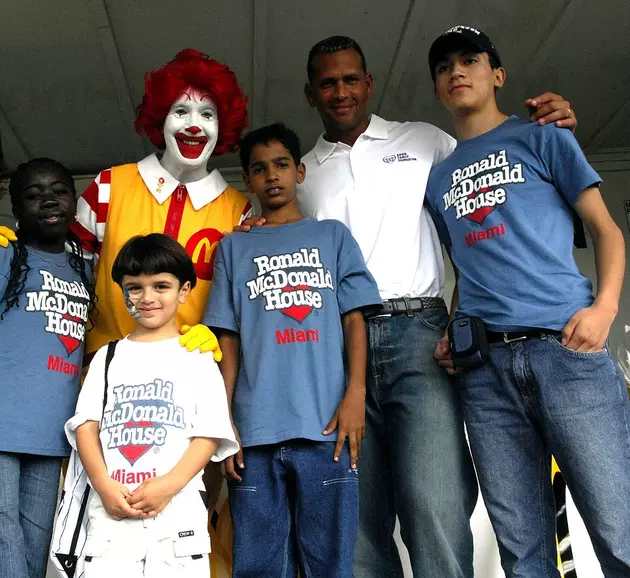 Shreveport Will Soon Have It's Own Ronald McDonald House
Gustavo Caballero/Getty Images for Arod Corporation
Amidst all the recent mud slinging of our current political season, the news we have recently received could easily be the best news we have gotten in months.
It is now a fact! Shreveport will soon have it's very own Ronald McDonald House! Well, relatively soon, might be a better way to fly that banner.
In a story from KSLA.com, we learned of the announcement from the Ronald McDonald House Charities concerning the construction of this incredible new facility.
On Tuesday, Oct. 17, Ronald McDonald House Charities of Arkansas & North Louisiana (RMHCAR-NLA) announced plans to build a new Ronald McDonald House with a 20-family capacity on the campus of Willis-Knighton South (9100 Susan Dr.) in Shreveport. The announcement was part of the kickoff of the nonprofit's Where Hope Has a Home campaign.

"There is a great need in northwest Louisiana for families to have a free place to stay and receive the support they need during their child's hospitalization. There are 386 Ronald McDonald Houses in the world, and it is time our community had one too," said Roy Griggs, CEO of Griggs Enterprise, Inc. and a McDonald's owner/operator.
According to officials from the Ronald McDonald House Charities, this will be the very first home constructed in Northwest Louisiana and will provide free accommodations for as many as 20 families while their children are treated at area hospitals.
Along with the amenities of the hotel room, guests will receive daily essentials, laundry, indoor/outdoor play areas, a family great room, a large kitchen, a dining room, and a family pantry. Meals will be provided by volunteer groups from the area. Transportation to and from area hospitals will also be provided.
Construction of this incredible venue is slated to begin in early 2024 and is expected to be completed in 2025.
The 5 Louisiana Kids Who've Disappeared Since August 1, 2023
In the extremely violent world we live in today, it's horrifying to think of another child who's possibly been taken by someone and sold into sex slavery or any other evil reason. Please see their photos and if you happen to see them or know the whereabouts of any of these children, immediately contact police to let them know.
Gallery Credit: Gary McCoy
More From News Radio 710 KEEL