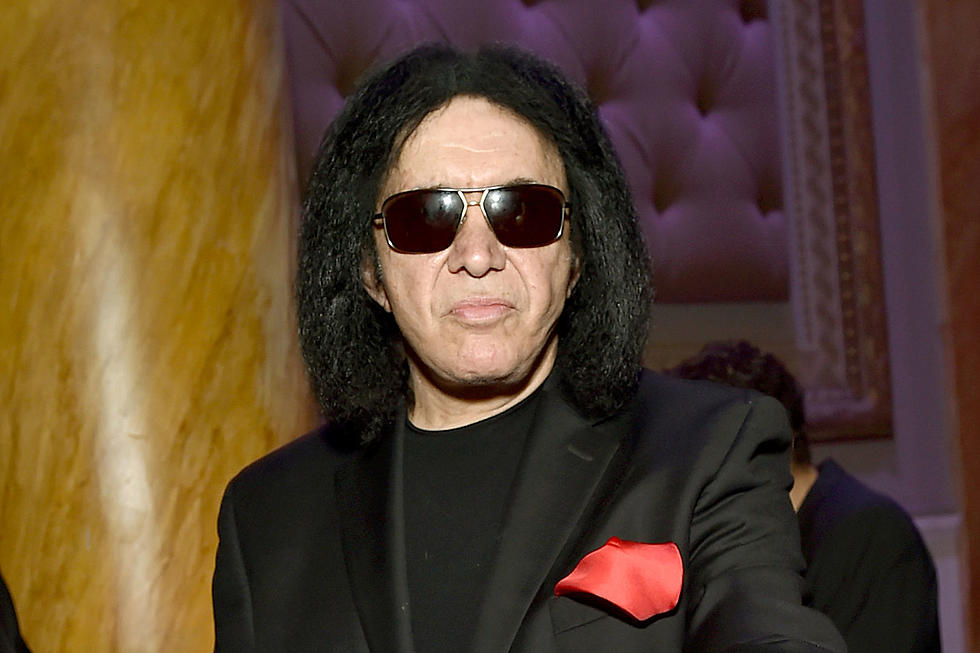 Gene Simmons: 'I Did Nothing' to Warrant Fox News Ban
Mike Coppola, Getty Images
KISS' Gene Simmons became headline fodder in November when he was reportedly banned by FOX News after allegedly crashing a staff meeting and engaging in some crude behavior. However, in a new interview with BBC Hardtalk host Sarah Montague, the musician says that "nothing happened" to warrant the response he received.
It was reported by the Daily Beast that Simmons had allegedly entered the staff meeting, bared his chest shouting "Hey chicks, sue me," shared a couple of pedophile jokes and struck a couple of staffers on the head with his book gauging their intelligence by the sound the book made. After complaints were filed, the network issued the ban.
Simmons also reportedly issued a statement not long after the story broke that according to the Daily Beast read: "I have appeared frequently over the years on various Fox News and Fox Business programs and have a tremendous amount of respect for the talented women and men who work there. While I believe that what is being reported is highly exaggerated and misleading, I am sincerely sorry that I unintentionally offended members of the Fox team during my visit."
When asked during his BBC Hardtalk interview about the incident, Simmons stated that he did not rip his shirt off, adding, "Here's how I wear my shirt. Somebody there apparently had the goods in for me and called something called The Daily Beast or something and said whatever they said I did. I did nothing. I always had people around me. Like when I come here, I've got handlers and everybody sees what I'm doing. You can't go into a public area and do anything."
He continued, "The problem is with social media today is nobody calls you and says, 'Do you have a comment?' So the story was printed, and, of course, everybody exploded. And Fox, you know, they're nice people — I like them a lot — closed ranks and they're afraid of getting sued by everybody. Nothing happened. I stand by every word." When asked again by Montague to clarify that nothing happened, Simmons repeated, "That's right. That's exactly right. I stand by every word I just said."
The discussion later turned to the continued investigation into sexual harassment in the entertainment industry, with the Hardtalk host questioning the singer about sexual misconduct accusations that have surfaced against him. "All of a sudden, 44 years on in a rock band, somebody's coming up and saying, 'This guy is a bad guy.' It's not true," explained Simmons. "I think the climate is horrifically bad and yet at the same time empowering to the right women. There are some really bad guys out there; I just happen not to be one of them."
He went on to state that the women who are going after the Harvey Weinstein's of the world should go to the cops. "The police are here and the court system is here for you to do what the women did with Bill Cosby. You have a complaint? Go to the cops. Going to the court of public opinion on social media is ... Maybe it exactly happened the way it happened. Why don't you get yourself a lawyer and do due diligence."
When asked if he felt there was a witch hunt for sexual predators and whether or not things have gone too far, Simmons stated, "I'm not saying it's gone too far or not enough. I'm saying, go to the cops." Listen to more of the Gene Simmons BBC Hardtalk interview here.
Gene Simmons Plays 'Wikipedia: Fact or Fiction?'
More From News Radio 710 KEEL