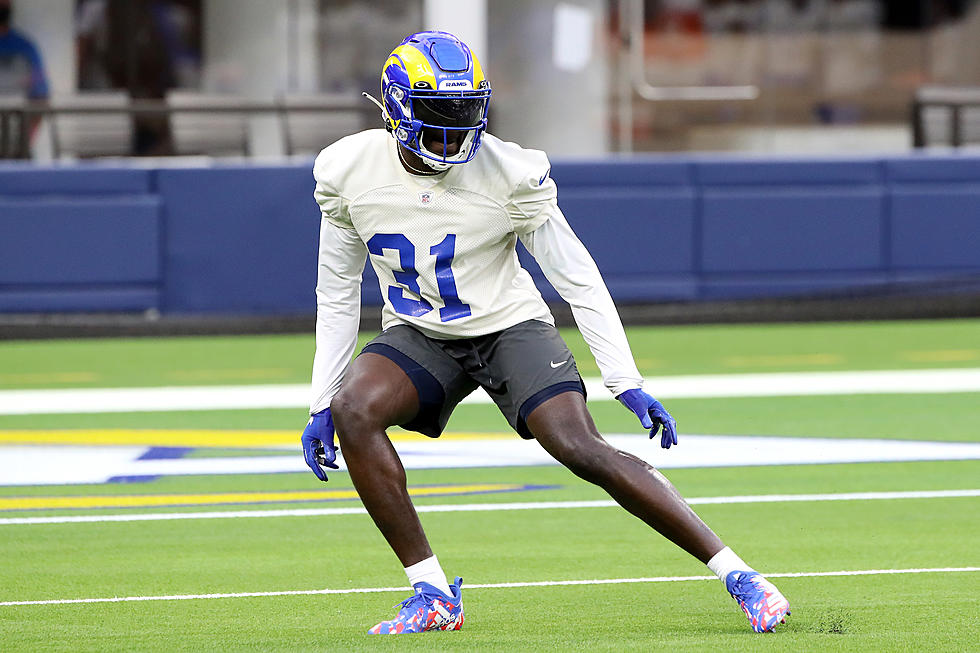 Ark-La-Tex Players Whose Teams Are Still Alive In NFL Playoffs
Robert Rochell, Los Angeles Rams (Photo by Katelyn Mulcahy/Getty Images)
The NFL Playoffs are heading into Conference Championship Sunday. That means just four teams remain alive. In the NFC, its the San Francisco 49ers against the Los Angeles Rams. On the AFC side we will see the Cincinnati Bengals against the Kansas City Chiefs. All four remaining teams have players from the Ark-La-Tex on their rosters.
Even though there are just four teams left, there are a lot of players from the Ark-La-Tex who wear those jerseys. For this, we're considering the Ark-La-Tex to be Northwest Louisiana, East Texas, and Southern Arkansas.
Here are the players whose teams are still alive.
Trent Taylor (Shreveport) - Cincinnati Bengals 
Trent Taylor has been a main part of the Bengals Special Teams since Week 15. He has been their main punt return weapon, while also returning kicks, and catching some passes too. He has been returning punts for the Bengals in the playoffs.
Travin Howard (Longview) - Los Angeles Rams
Howard started the Rams first playoff game against the Arizona Cardinals, after starting the last two games of the regular season as well. He didn't start against Tampa Bay, but sill collected 6 total tackles, the third highest on the team in the game.
L'Jarius Sneed (Minden) - Kansas City Chiefs
Sneed has been starting at defensive back for the Chiefs all season, and playoffs. He racked up 79 tackles and 2 interceptions this season.
Robert Rochell (Shreveport) - Los Angeles Rams
2021 was an up-and-down year for Rochell. He started 5 games for the Rams, racking up 14 tackles, a fumble recovery, and an interception. Not bad rookie year. But after week 13, he had to shut the season down due to injury.
Trent Williams (Longview) - San Francisco 49ers
Big Trent Williams is the highest paid offensive lineman in NFL history. He's been a big part of the 49ers success this year, but he was injured in their win over the Green Bay Packers. But x-rays on his ankle were negative, so he may be able to play through it.
Patrick Mahomes (Whitehouse, TX) - Kansas City Chiefs
Not much has to be said about #15 anymore. You know who he is, and what he does.
JaMycal Hasty (Longview) - San Francisco 49ers
Though he hasn't been a starter for the 49ers, Hasty has been a big part of special teams. He's been returning kicks for the team, especially in the playoffs. While also catching some passes out of the backfield over the last couple weeks.
Brandon Wilson (Shreveport) - Cincinnati Bengals
Wilson has been hurt since week 9, but hes a mainstay on the Bengals roster. He's been playing special teams and defense since he came into the league with Cincy.
Take a Look Inside Shreveport's Historic Downtown Fire Tower Airbnb
Built in 1922 as the Hose Tower for the Downtown Central Fire Station, this gorgeous downtown space has been converted into a 5-story apartment! Have you ever wanted to take a look inside? Here's your chance, and if you like it - you should totally stay here! For around $200
a night you can book it on Airbnb!
Take a Peek at Pure Luxury in Louisiana's 2nd Most Expensive Home
More From News Radio 710 KEEL