Edwards Admits Trump's Visit To Louisiana Was Helpful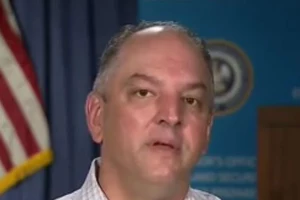 Governor John Bel Edwards has been caught in the political crossfire of a natural disaster and national politics. Needless to say the state's Chief Executive has been getting quite a bit of grief concerning the visit of Republican Nominee for President Donald Trump and the delayed visit of sitting United States President Barrack Obama.
Last week Edwards went on record as saying that President Obama's absence from the state was easily explained. The Governor said the President would visit once the initial disaster response was over. He also suggested that Mr. Trump was welcome to visit Louisiana during the crisis but not for a "photo-op".
In a story published by NOLA.com on Sunday Edwards admitted via a CNN's State of The Union program that the Trump visit was in fact a good thing for the state.
It helped to shine a spotlight on Louisiana and on the dire situation that we have here…it was helpful.
State of the Union host Dana Bash asked Governor Edwards about a double standard concerning Obama's decision to not make an appearance in Louisiana until Tuesday. She was referring to Democratic criticism of Former President George Bush and his delay in visiting the state following Hurricane Katrina.
The Governor suggested in his comments that there was no such standard. He indicated that the President was well informed on conditions in the state during the height of the flooding. You may see Governor Edwards complete interview on CNN's State of the Union here or read the CNN full report right here. .